MOBILIER CONTEMPORAIN CONTEMPORARY FURNITURE
Si votre navigateur ne supporte pas JavaScript, lisez s'il vous plaît le contenu de la page ci-dessous:
MOBILIER CONTEMPORAIN CONTEMPORARY FURNITURE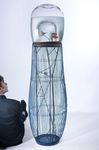 "Le tact dans l'audace, c'est de savoir jusqu'ou on peut aller trop loin" Jean Cocteau "To be tactfully daring means knowing how to push the limits without going too far" Jean Cocteau
Cette phrase de Jean Cocteau résume l'état d'esprit qui anime les trois associés de Specimen . L'audace d'être galeriste et éditeur. Marcher entre deux eaux, celles de la production industrielle, et celle de l'artisanat d'art. Le tact de rendre le design accessible par des éditions illimitées, aux cotés des pièces de galerie.
L'audace de faire voyager nos collections à travers le monde dans des galeries et foires, pour faire partager notre approche singulière du mobilier contemporain. L'audace de raconter par le mobilier des histoires, des rêves et des poèmes de Sylvain Rieu-Piquet, Guillaume Delvigne, Olivier Grégoire, Constance Guisset, Nendo… L'histoire de nos meubles et objets commence par un coup de cœur pour un univers, une esthétique, mais aussi des matières qui émerveillent les sens : le marbre de Savoie, le verre, le liège, le carbone, le feutre, le béton lisse, ou des milliers de lamelles de papier assemblées côte à côte… Specimen place enfin au cœur de sa démarche la rencontre avec une génération de designers en pleine effervescence, des galeristes, des col- lectionneurs.
This quote by Jean Cocteau captures the philosophy of Specimen's founding members. Daring to combine both a gallery and a contemporary, handcrafted furniture store under one roof. The tact to make design af- fordable thanks to unlimited editions and one of a kind gallery pieces. Dar- ing to exhibit our collections in galleries and fairs all over the world, and to share our unusual approach to design. Daring to let our designers Sylvain Rieu-Piquet, Guillaume Delvigne, Olivier Grégoire, Constance Guisset, Ne- ndo... tell stories, dreams, and poems through their furniture. The story of each piece of furniture begins by a love for the world from which it comes, its grace, and its materials which arouse wonderful feel- ings: marble of Savoy, glass, cork, carbon, felt, fair-faced concrete, and thousands of thin layers of paper.
Finally, Specimen emphasizes the meeting of a new generation of design- ers, gallery owners, and collectors. SPECIMEN éditions limitées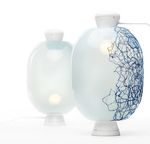 DUPLEX Constance Guisset Duplex Verre soufflé et acier / blown glass and steel Dimensions : 160x50x50 cm Specimen Editions en 8 exemplaires … mais comment s'y prendre, quand on est dans l'eau? Duplex est une réponse inattendue à cet impossible amour chanté par Juliette Gréco en 1966. Une cage surmontée d'un aquarium, dont la base en cloche crée une bulle d'air. Ainsi l'oiseau peut se percher à la même hauteur que le poisson.
Cet objet étonnant et poétique place ces habitants de l'air et de l'eau dans une situation inédite d'explorateurs mutuels. En 2009, le prototype de Duplex rentre dans la collection permanente du Fonds National d'Art Contemporain.
… but how can this love ever be while the fish is in the sea? Duplex, an aquarium above a cage, is an unexpected solution to this impossible love story, sang by Juliette Gréco in 1966. The base of the aquarium contains a bell shaped air bubble into which the bird is able to fly and rest at the same level as the fish This poetic and surprising piece of design places these inhabitants of air and water into a unique situation of mutual exploration. In 2009, this piece was purchased by the permanent collection of the National Foundation of Contemporary Art (France). Un petit poisson, un petit oiseau s'aimaient d'amour tendre ...
A little fish and a little bird loved each other tenderly ... I DESIGN : CONSTANCE GUISSET SPECIMEN EDITIONS limitées Photo : Gabriel de Vienne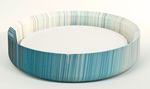 PLANE PIERRE LOTA La legerete et le graphisme When carbon makes a table fly Plane est née d'un geste unique, une découpe précise dans le plateau en fibre de carbone, repliée pour en constituer le pied. Le plateau donne l'impression de léviter. Une oeuvre minimaliste et légère tant dans son des- sin que dans son poids. Un graphisme qui marque. Plane is the result of a unique gesture. Ninety degree inset cuts are made into opposing corners of a single square piece of carbon fiber. Leaving the piece intact, the corners are then bent down to form legs, accentuating the combination of sharp corners and curves.
"The plate seems to levitate". A minimal, weightless piece of furniture, thanks to the carbon and its design. I DESIGN : PIERRE LOTA Plane Fibre de carbone / carbon fiber Dimensions : 78x78x30 cm Specimen Editions en 25 exemplaires SPECIMEN EDITIONS limitées Photo : Gabriel de Vienne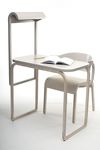 FOLDCHAIR OLIVIER GREGOIRE Foldchair /Tapisofa Fibre de verre et feutre / Fiberglass and felt Dimensions : 140x100x160 cm / 85x76x90 cm Specimen Editions en 25 exemplaires Différents coloris disponibles / Various colors Indubitablement, le design de Foldchair et Tapisofa interpelle. Ces pièces de feutre en suspension semblent se déployer, comme s'il fallait s'asseoir dessus pour ne pas qu'ils s'envolent. Réalisés en fibre de verre et feutre, les qualités techniques de ces assises sont au service de leur magie visuelle et de leur confort.
Undoubtedly the design of the two chairs, Foldchair and Tapisofa, is eye catching.
They look like felt ribbons flying in space on which we must sit, otherwise they will take off… The materials (fiberglass and felt) and the technical quality of the production allow a magical appearance and com- fort. I DESIGN : OLIVIER GREGOIRE Une feuille froissee sur laquelle il faudrait s'asseoir pour ne pas qu'elle s'envole ... A crumpled piece of paper , on which we must sit on it, otherwise it takes off... SPECIMEN EDITIONS limitées Photo : Gabriel de Vienne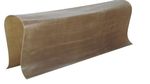 CHANDABRABHU SYLVAIN RIEU-PIQUET Chandabrabhu Marbre / marble Dimensions : 47x47x40 cm Pièce unique Gargouille gothique indienne, Chandabrabhu est une table de chevet en marbre gris de Savoie. « Un morceau de temple hindou atomisé par la colère des dieux» selon Sylvain Rieu-Piquet. Sculptée à la fraiseuse numérique, ce meuble « néo-art nouveau » expose crânement les striures laissées par l'outil contemporain, pour ne rien cacher de ses origines industrielles.
Unquestionably the most phenomenal piece from Specimen's collection, Chandabrabhu is an occasional table made from grey Savoy marble.
It looks like a Hindu gothic gargoyle. It resembles « a remnant of a Hindu temple destroyed by the anger of a capricious divinity » according to Sylvain Rieu- Piquet. Sculpted with a digital cutter, this "neo –art nouveau" piece of furniture proudly displays the grooves left by its industrial origins. I DESIGN : SYLVAIN RIEU-PIQUET Un vestige de temple hindou atomise par la colere des dieux A remnant of a Hindu temple destroyed by the wrath of the gods SPECIMEN EDITIONS limitées Photo : Gabriel de Vienne
DENEB GUILLAUME DELVIGNE Deneb est la résurgence d'une ville imaginaire. L'une de ces maisons ou palais devient sous le crayon de Guillaume Delvigne un vase bleu ancré dans un vide-poche en liège. Le rêve permet l'alliance de deux matières que tout semble opposer : le liège et le verre, le mat et le scintillant, le lourd et le léger, l'eau et la terre. Il donne au liège, mal-aimé du design, ses lettres de noblesse. Objet fonctionnel, sculptural, et évocateur, il se laisse contempler inlassablement.
Deneb comes from a dream, taking place in a wonderful world. Deneb, a blue vase anchored in a tray made from cork, is the revival of a palace dreamt by Guillaume Delvigne.
The dream enables the union between two materials that seem opposite: cork and glass, coldness and softness, round and square, water and earth. When placed on a side table, Deneb is functional, sculptural and eloquent. Element d'une vaste ville fantastique et futuriste Part of a vast and fantastic futuristic city SPECIMEN EDITIONS limitées Deneb Verre soufflé et liège / blown glass and cork Dimensions : 35x35x40 cm Specimen Editions en 25 exemplaires I DESIGN : GUILLAUME DELVIGNE Photo : Gabriel de Vienne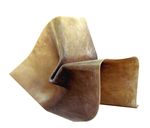 Flamingo Papier et Corian Paper and corian Dimensions : 30x30x20 cm Specimen Editions en 8 exemplaires CARAIBES - FLAMINGO GREGORY LACOUA Grégory Lacoua ne se contente pas de valoriser le papier. Il en sublime la finesse, la texture et le graphisme de leur accumulation dans les cou- pelles Caraïbes et Flamingo. Ces 4 000 lamelles de papier, d'une trentaine de nuances différentes, s'ordonnent élégamment autour d'un plateau en corian, pour lui donner tout son éclat.
Caraïbes and Flamingo are both made of 4000 thin layers of paper, from 30 different shades of blue and pink. They elegantly arrange themselves around a plate in corian.
I DESIGN : GREGORY LACOUA L'elegance du papier How paper becomes chic SPECIMEN EDITIONS limitées Caraïbes Papier et Corian / paper and corian Dimensions : 40x40x15 cm Specimen Editions en 8 exemplaires Photo : Gabriel de Vienne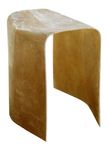 En général, le meuble est au service des objets. Une bibliothèque sert à soutenir des livres, une table basse à déposer des livres, des tasses... Dans la collection object dependencies, c'est l'objet qui est au service du meuble. Le meuble est stable et équilibré car lesté par des objets en acier plein, d'une dizaine de kilos chacun. Ainsi agencés, ces livres, tasses, et bouteilles permettent aux meubles de remplir pleinement leur fonction, et surtout, ils révèlent l'âme, l'esthétisme et la poésie du meuble, et le génie du grand designer NENDO.
Originally, furniture was structurally complete, and served to hold books, cups and other objects placed upon it.
The collection object dependencies comprises pieces of 'weak furniture' that stand thanks to the addition of objects. The accumulation of objects highlights the soul, the beauty, and the poetry of the pieces of furniture, and the genius of the great designer NENDO. L'objet au service du meuble F urniture's object dependencies SPECIMEN EDITIONS limitées I DESIGN : NENDO - OKI SATO TABLE 01 NENDO Table 01 (table basse) Dimensions : 95x95x42 cm Tilleul et bois laqué, objets en acier plein laqué Limewood, painted wood, objects in solid painted steel Specimen Editions en 8 exemplaires Photo : Hiroshi Iwasaki
SPECIMEN EDITIONS limitées Sidetable 02 Dimensions : 62x50x40 cm Sidetable 04 Dimensions : 180x52x50 cm Sidetable 05 Dimensions : 110x128x50 Sidetable 03 Dimensions : 70x128x55 cm NENDO SIDETABLES Tables : feuilles d'acier laquées Objets : Acier plein laqué Specimen Editions en 8 ex. Prix sur demande Tables : sprayed sheet metal Objects : solid painted steel 8 ex. numbered and signed Sidetable 01 Dimensions : 70x42x50 cm Photo : Hiroshi Iwasaki
Table 02 (console) Dimensions : 150x50x95 cm Tilleul et bois laqué, objets en acier plein laqué Limewood, painted wood, objects in solid painted steel Specimen Editions en 8 exemplaires.
SPECIMEN EDITIONS limitées TABLE 02 NENDO Photo : Hiroshi Iwasaki
SPECIMEN EDITIONS limitées Fibre vulcanisée et acier plein laqué Painted vulcanised fiber and solid steel Specimen Editions en 8 exemplaires Lamp M Dimensions : 51x99x64 cm Lamp S Dimensions : 32x62x40 cm LAMPS AND SHELVES NENDO Etagère Wall Shelf Dimensions : 120x30x40 cm Tilleul et bois laqué, objets en acier plein laqué Limewood, painted wood, objects in solid painted steel Photo : Hiroshi Iwasaki
SPECIMEN EDITIONS limitées Container 01 Dimensions : 51x52x120 cm Specimen Editions en 8 exemplaires Container 03 Dimensions : 75x43x75 cm Specimen Editions en 8 exemplaires CONTAINERS NENDO Container 04 Dimensions : 96x35x95 cm Specimen Editions en 8 exemplaires Container 02 Dimensions : 90x35x85 cm Specimen Editions en 8 exemplaires Photo : Hiroshi Iwasaki
SPECIMEN éditions illimitées
La Fold Collection Raw est la déclinaison en fibre de verre brute du Fold- chair éditée par SPECIMEN à la demande de la marque ACNE, afin de meubler ses concept stores (New York, Londres, Copenhague, Stoc- kholm...). Cet ensemble d'assises (banc, tabouret, et fauteuil) défend une même identité visuelle et une même approche graphique, «unfinished» et fonction- nelle du mobilier. La délicatesse brute dans toute sa splendeur. The Fold Collection is the industrial variation of Foldchair, edited in «raw» glassfiber. A model ordered for the shops of the brand ACNE.
This set of seats (bench, stool, and chair) maintains the same weightless design as their predecessor Foldchair. Indoor and outdoor, these graphical pieces are a hymn to the raw delicacy. F old Collection Raw : la delicatesse brute A hymn to the raw delicacy I DESIGN : OLIVIER GREGOIRE SPECIMEN EDITIONS illimitées FOLD OLIVIER GREGOIRE Foldchair Fibre de verre brute / raw glasfiber Dimensions : 97x80x90 cm Foldstool Fibre de verre brute / raw glasfiber Dimensions : 48x42x44 cm Foldbench Fibre de verre brute / raw glasfiber Dimensions : 141x35x48 cm Photo : Tristan Pannier
Avec les vases Weight, le designer Decha Ar- chjananun ne garde que l'essentiel du vase : la partie haute, composée d'un fin tuteur en acier, maintient la fleur.
La partie basse en béton lisse contient l'eau et stabilise l'ensemble. Entre les deux, le vide permet de dévoiler impudiquement la tige de la fleur, que tous les vases s'obstinent à cacher. La famille «Weight» comprend quatre vases de formats différents. Disponibles en 4 couleurs (gris naturel, jaune, bleu provence, rouge Terracota).
With the Weight vases, Decha Archjananun comes back to the essence of functionality. At the top, a stand made of thin steel holds the flower straight. At the bottom, the base made of concrete contains water. In the middle, nothing but the stem, unusually exposed. The collection of weight vases is composed of four pieces in different sizes. Available in four different colors (grey, yellow, blue «provence», red terracota). I DESIGN : DECHA ARCHJANANUN / ECAL THINkk STUDIO La legerete du beton Lightness of concrete SPECIMEN EDITIONS illimitées WEIGHT VASES DECHA ARCHJANANUN Weight Vases Béton et acier / concrete and steel 4 dimensions disponibles / 4 available sizes 4 couleurs disponibles / 4 available colors A dimensions : 37x12x22 cm B dimensions : 20x12x28 cm C dimensions : 15x15x36 cm D dimensions : 13x13x22 cm D B A C Photo : Claire Pathé
La Perch collection de Pierre Favresse forme un ensemble harmonieux de mobilier composé d'une chaise, d'un fauteuil à bascule, et d'un bureau avec lampe intégrée. Cette collection permet d'envisager l'espace ainsi meublé comme un lieu studieux, où l'identité et la sobriété des formes viennent apaiser l'esprit, mais aussi comme un lieu ludique, suggéré par les chaises bicolores, comme si les éléments avaient été dépareillés lors de leur assemblage.
The Perch Collection by Pierre Favresse comprises several pieces based on the same design: a chair, a rocking chair, and a desk with an inte- grated light.
This collection, made with birch plywood is harmonious by allowing two different atmospheres in the same room ! This collection com- bines both a rigid and playful atmosphere with the two-tone chairs; as if the opposing elements of the chair are at odds. I DESIGN : PIERRE FAVRESSE Envisager l'espace comme un lieu studieux ou ludique Envision a space designed to be both serious and fun SPECIMEN EDITIONS illimitées PERCH PIERRE FAVRESSE Chaise Perch Bois peint / painted wood Dimensions : 50x57x74 cm Rocking-chair Perch Bois peint / painted wood Dimensions : 50x57x74 cm Photo : Benjamin le Du
Bureau Perch Bois peint / painted wood Dimensions : 80x45x122 cm SPECIMEN EDITIONS illimitées Table Perch Bois peint / painted wood Dimensions : 180x80x75 cm PERCH PIERRE FAVRESSE Photo : Benjamin le Du
La lampe signée Pierre Favresse joue du contraste. D'un coté la symétrie de la lampe, de l'autre la préciosité organique de la broderie d'Emmanuelle Dupont. Cette dernière habille sensuellement cette perle de verre opa- lescent. Pearl est éditée en collaboration avec la Galerie Triode. This lamp designed by Pierre Favresse plays with the contrasts: The sym- metrical and reversible design of the lamp versus the organic preciosity of Emmanuelle Dupont's embroidery.
It sensually covers this opalescent glass pearl. Pearl is produced in association with the Gallery Triode (Paris). Quand la broderie contemporaine habille sensuellement une lampe opalescente When contemporary embroidery sensually covers an opalescent lamp I DESIGN : PIERRE FAVRESSE / EMMANUELLE DUPONT SPECIMEN EDITIONS illimitées PEARL PIERRE FAVRESSE Pearl Verre soufflé, acier, coton (broderie) Blown glass, steel, cotton (lace) Dimensions : 50x30x30 cm Disponible avec/ sans broderie Available with/without lace Photo : Gabriel de Vienne
La lumiere reduite a sa plus simple expression : un eclat dans l'espace Light reduced to its purest form: brightness in space A l'occasion des Designer's Days en 2010, Specimen a lancé l'édition de la lampe O10 en partenariat avec Terres&Nuages. La lampe «O10» dessinée par Guillaume Delvigne s'arrime à une bibliothèque, à un bureau… La lumière y est réduite à sa plus simple expression : un éclat dans l'es- pace. En arrière plan, la structure colorée serpente d'un espace à l'autre tandis que la linéarité du fil introduit une rupture élégante. To celebrate its first participation in the Designer's Days in Paris (2010), Specimen produced the light O10, designed by Guillaume Delvigne in par- tnership with Terres&Nuages.
The light is reduced to its purest form; bright- ness in space. In the background, the colored structure "snakes" from one space to another in contrast with the linear electrical cord. I DESIGN : GUILLAUME DELVIGNE SPECIMEN EDITIONS illimitées o10 GUILLAUME DELVIGNE O10 Dimensions : 45x14x3 cm 5 couleurs disponibles 5 colors available Photo : Gabriel de Vienne
I PIERRE LOTA OVNI du design français, il est formé à l'Ecole Nationale Supérieure des Arts Décoratifs de Paris, l'Ecole Boulle et Olivier de Serres. Pierre Lota est un adepte du « Blitz Design ». Amoureux de la matière, synthétique à l'extrême, apôtre de la ligne droite, il construit une carrière en dehors du sérail. Un design de l'instant, fugace, minimal, poétique et drôle. Il collabore régulièrement avec Specimen pour l'édition de meubles « sur mesure » à la demande de clients.
A UFO among french designers, Pierre Lota is fond of «Blitz Design». He graduated from the Ecole Nationale Supérieure des Arts Décoratifs de Paris, the Ecole Boulle and the Ecole Olivier de Serres.
The unconventio- nal, spontaneous, minimalist, poetic and humoristic design of Pierre Lota is like a breath of fresh air. Specimen was the first to produce one of his projects and continues to collaborate with him to produce custom pieces of furniture upon request. I CONSTANCE GUISSET Après un cursus atypique (ESSEC, Sciences Po, ENSCI), cette designer et scénographe en constante effervescence collabore avec les frères Bou- roullec, avant de voler de ses propres ailes en 2009. Sa réflexion sur l'illu- sion, la légèreté et la surprise lui ont valu de nombreux prix : Grand Prix du Design de la ville de Paris en 2007, créatrice de l'année à « Maison & Objet » en 2010, et le prix du musée des Arts Décoratifs.
Artist and set designer, Constance Guisset, followed an unusual curriculum to achieve her status as a great designer. She graduated both from the "ESSEC Business School" and "Sciences Po" before joining the Industrial Design School (ENSCI-Les Ateliers). She then worked in collaboration with the Bouroullec brothers. Her artistic expression, both poetic and discipli- ned, has been frequently awarded: Design award from the Ville de Paris in 2007, Creator of the Year from "Maison & Objet" in 2010, and the Award of the Museum of Decorative Arts in Paris.
Les designers edites par Specimen Specimen's designers SPECIMEN EDITIONS I OLIVIER GREGOIRE Olivier Grégoire est un designer français qui travaille à New-York, pour l'agence Aruliden. Il élabore avec talent un travail délicat selon le principe d'équilibre parfait entre art et industrie, forme et fond, sensitif et fonctionnel. Suite à une rencontre "coup de coeur" pour ce designer, Specimen édite d'abord Foldchair puis Tapisofa (25 exemplaires) et décline sur la même identité visuelle une gamme d'assises (fauteuil, banc, tabouret) pour ACNE en édition illimitée.
Olivier Grégoire is a French designer who lives and works in New-York for the studio Aruliden.
Producing designs based on his emotions, Olivier Gregoire performs a delicate balance between art and industry, form and substance, sensitivity and functionality. It was "love at first sight" with this designer. Specimen first produced Foldchair, and Tapisofa (25 copies produced). The variations were produced two years later in a set of seats (chair, bench, stool) for unlimited editions. I SYLVAIN RIEU-PIQUET Designer industriel et plasticien, Sylvain Rieu-Piquet s'affranchit des contraintes du design pour laisser éclater un vocabulaire plastique aussi extravagant que romantique. L'assurance de son trait et la confiance dans un univers fantastique loin des canons du design classique, font de lui l'un des designers les plus captivant de sa génération.
Industrial designer and artist, Sylvain Rieu-Piquet is liberated from design constraints to allow his visual vocabulary, which is both extravagant and romantic, to radiate. His fantastic world - far from design standards, make him one of the most interesting designers of his generation. I GUILLAUME DELVIGNE Guillaume Delvigne prône l'élégance de la sobriété, des jeux des matières et d'un trait précis. Ce membre fondateur du collectif de design Dito col- labore avec de nombreux éditeurs et industriels (Ricard, Industreal, Tek Import, Made in Design...) et monte en 2010 son propre studio. Il reçoit en 2011 le prix du design à la carte à « Maison & Objet » en 2011, avant que la Tools Galerie lui consacre sa première monographie.
Guillaume Delvigne likes the elegance of simplicity and to play with the combination of different materials. He extols a clean-cut design. Member of the collective Dito, he has worked alongside many editors and manufac- turers (Ricard, Industreal, Tek Import, Made in design . He was awarded at « Maison & Objet » in 2011. The same year, the Tools Gallery exhibited his first monograph. DESIGNERS
I GREGORY LACOUA Grégory Lacoua est un jeune designer, formé à l'ENSCI, puis en tapisserie à l'école Boulle. Il met son talent et sa polyvalence tant au service du design, que de l'aménagement d'une chapelle, ou encore au service de la recherche sur la valorisation des matériaux.
Fort de ces richesses, il conçoit des objets innovants par l'usage qu'ils définissent, les matériaux dont ils sont issus et la sensation qu'ils procurent.
A graduate from the ENSCI (industrial Design, France) and the Ecole Boulle (ta- pestry), Gregory Lacoua is accustomed to woing in various fields: industrial de- sign, interior design for a chapel in Paris, and in research for material recovery. I NENDO - OKI SATO Né à Toronto en 1977, Oki Sato est élu parmi les 100 japonais les plus respectés par le Newsweek magazine en 2007. Le wall paper le consacre designer de l'année 2011. Les pièces de Nendo sont rentrées dans les collections du Museum of Modern Art, du Museum of Arts and Design, du Musée des Arts Décoratifs de Paris ainsi qu'au Centre Georges Pompidou.
En 2012, Il réalise avec Specimen sa première monographie en France, à la galerie Pierre Alain Challier.
Born in Toronto in 1977, Oki Sato is among the 100 most respected Japanese according to Newsweek magazine in 2007. He was awarded «Designer of the year» by the Wallpaper Magazine in 2011. Nendo's collec- tions can be seen in New York at the Museum of Modern Art and at the Museum of Arts and Design, and in France at the Musée des Arts Décora- tifs de Paris and at Centre Pompidou. In 2012, he debuted his first perso- nal exhibition with Specimen,at the Gallery Pierre Alain Challier, in France. SPECIMEN EDITIONS I PIERRE FAVRESSE Pierre Favresse est directeur artistique de l'enseigne Habitat, et designer.
Diplomé de l'école Boulle et de l'Ecole Nationale Supérieure des Arts Déco- ratifs de Paris, il est passionné par les process de fabrication. Il conçoit ainsi des objets et meubles caractérisés par l'économie de moyens et la légèreté. Fort de sa collaboration avec Mathieu Lehanneur en tant que de- signer, puis comme directeur d'agence, il fonde son propre studio en 2010. Pierre Favresse is a designer and the artistic director of Habitat. He gra- duated from the Ecole Boulle (Paris) and the Ecole Nationale Supérieure des Arts Décoratifs (Paris). He is passionate about the production process and has developed a keen interest in designing functional objects and pieces of furniture.
He has collaborated with Mathieu Lehanneur, as desi- gner and as agency director, and opened his own studio in 2010. I EMMANUELLE DUPONT Emmanuelle Dupont est diplômée en 2005 de l'école Supérieure des Arts Appliqués Duperré, à Paris. Ses sculptures brodées et tissées ont été récompensées par le « prix textile mode de la fédération des dentelles et broderie en 2005 », le « Grand prix de la création de Paris » en 2006, le Prix « jeune créateur des Ateliers d'art de France » en 2007 et le « Prix Liliane Bettencourt pour l'intelligence de la main » en 2008. Emmanuelle Dupont graduated from L'Ecole Superieure des Arts Appliques Duperre (Paris) in 2005.
His embroideries and woven designs have been awarded many times over. Awards include the « Prize of the Textile Fashion Federation of Lace and Embroidery » in 2005, the « Grand Prize de la creation de Paris » in 2006, the « French Young Designer of Art Award » in 2007, and the « Liliane Bettencourt Award » for the intelligence of the hand in 2008.
I DECHA ARCHJANANUN - THINkk STUDIO Diplomé en architecture de l'université kMITL (Thailand ) et de l'Ecole d'Art et de Design de Lausanne (ECAL) Decha Archjananun a créé le studio Thinkk en 2007 avec Ploypan Theerachai, distingué par le Furniture Design Award de Singapour et le prix ELLE Décoration de Thailande. En 2009, il est nominé et finaliste du prix du designer de l'année thailandais. Decha Archjananun graduated with a Bachelors in architecture from kMITL (one of Thailand's leading universities) and from the University of Art and Design Lausanne (ECAL- Switzerland). He founded the studio Thinkk in 2007 with Ploypan Theerachai.
Thinkk has received many awards in- cluding the Furniture Design Award in Singapore and the ELLE Thailand Design Award. In 2009, the studio was nominated as a finalist for Thai designer of the year.
DESIGNERS
SPECIMEN EDITIONS Editeur de mobilier contemporain www.specimen-editions.com CONTACT : M. Etienne de Crouy etienne.decrouy@specimen-editions.fr tel : 0033 6 10 34 53 69 M. Alaric Miaume alaric.miaume@specimen-editions.fr tel : 0033 6 74 35 41 91 M. Tristan Pannier tristan.pannier@specimen-editions.fr tel : 0033 6 62 46 68 31 Information / demande de prix / commande Information / Price request / Order contact@specimen-editions.fr
Pages que vous pourriez aussi aimer