2020/21 COLOURS OUR APP - Steil Systemtechnik GmbH
Transcription du contenu de la page
Si votre navigateur ne rend pas la page correctement, lisez s'il vous plaît le contenu de la page ci-dessous
ENJOY OUR APP                                      DISCOVER A NEW DIMENSION – BRING OUR CATALOGUE TO LIFE

                           1. DOWNLOAD                       Bereit für ein Live-Erlebnis der besonderen Art?            Ready for that special live experience? Bring
                                                             Dann erwecken Sie mit der neuen "Steinberg Live             this pricelist to life – with our Steinberg Live
                                         OUR NEW APP         ­Katalog" App diese Preisliste zum Leben.                   ­Catalogue app.

                                                             So einfach geht's: kostenlose App auf das Handy her-        It's just this easy: Download the free app to your
                                                             unterladen, dann die Seite Ihrer Wahl mit dem Smart-        mobile or tablet and scan the desired page to
                                                             phone scannen. Erleben Sie jetzt unsere Produkte            your device. Experience our products live and
                                                             live und in Aktion, holen Sie sich nützliche Zusatz-        in operation, learn helpful details and discover
                              2. SCAN                        informationen und ganz neue Perspektiven!                   entirely new perspectives.
                                        THE PAGES YOU LIKE

                                                             Prêt pour une expérience d'un nouveau genre ?               Gotowy na wyjątkowe doświadczenia? Ożyw
                                                             ­Grâce à l'appli « Steinberg Live Katalog », donnez vie     nasz katalog - dzięki naszej aplikacji Steinberg
                                                             à ce tarif.                                                 Live Catalogue.

                                                             C'est simple : téléchargez l'appli gratuite sur votre té-   To takie proste: Pobierz bezpłatną aplikację na
                                                             léphone portable, puis scannez la page de votre choix       telefon komórkowy lub tablet i zeskanuj wybraną
                                                             avec votre smartphone. Découvrez alors nos produits         stronę swoim urządzeniem. Wypróbuj nasze pro-
                                                             en direct, en mouvement, découvrez des informati-           dukty, poznaj ­przydatne szczegóły i odkryj zupełnie
             3. ENJOY                                        ons complémentaires et de nouvelles perspectives !          nowe możliwości.
                        AND GET INSPIRED

Get it on the App Store & Google Play Store – Look for:                    Get it on the App Store & Google Play Store – Look for:
        STEINBERG LIVE CATALOGUE                                                           STEINBERG LIVE CATALOGUE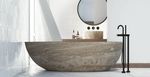 INHALT                                                                                  52
   CONTENTS

              08
                                                                  ROSE
                                                                  GOLD

MATT                                      GUN
122
                                                                                            BRUSHED
BLACK                                                                                       NICKEL
                                          METAL

                                          74                                82
        MATT BLACK                          ROSE GOLD       GUNMETAL        BRUSHED NICKEL
        10 IFLOW        32   SERIES 160     54 SERIES 260   76 SERIES 230   84 SERIES 260
        11 PUSHTRONIC   38   SERIES 135     60 SERIES 100
        12 SERIES 260   44   SERIES 390     66 SERIES 250
        18 SERIES 100   47   SERIES 450     71 SERIES 660                   90 INDEX LIST
        26 SERIES 250   48   SERIES 460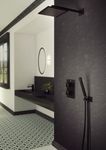 MATT
BLACK
        Die Armaturen in tiefem Mattschwarz überzeugen
        mit ihrer perfekten, ebenmäßigen Haptik. Durch
        elektrochemische Tauchbeschichtung wird eine
        makel­los glatte, aber dennoch matte Oberfläche er-
        reicht. Das Ergebnis ist eine maximal korrosionsbe-
        ständige, tiefschwarze Oberfläche mit sanften und
        ruhigen Lichtreflexen.

        Our mixer taps in matt black have a strikingly
        ­smooth and even feel. The impeccably smooth yet
        matt surface is achieved by electro coating, which
        gives the mixer tap maximum corrosion resistance
        and a soft shine.

        Les armatures d'un noir mat intense sont très con-
        vaincantes par leur toucher parfaitement uniforme.
        La cataphorèse permet d'obtenir une surface par-
        faitement lisse et néanmoins mate. Cela donne une
        surface d'un noir intense très résistante à la corro-
        sion reflétant délicatement la lumière.

        Armatura w kolorze głębokiej matowej czerni im-
        ponuje swoją gładką i równomierną powierzchnią,
        co jest wynikiem elektrochemicznego lakierowania
        zanurzeniowego. W efekcie powłoka jest nadzwyc-
        zaj odporna, a jej głęboka czerń charakteryzuje się
        satynowym połyskiem o łagodnych i spokojnych
        refleksach.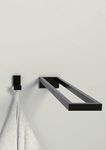 MATT
    BLACK

                    SEITE | PAGE   27                  SEITE | PAGE   38

            iFlow

                                   SEITE | PAGE   19   SEITE | PAGE   12

                                   SEITE | PAGE   32   SEITE | PAGE   11

8                                                                          9
STEIN

                                                                                                                                                                                                                                                                                                                     MATT BLACK | IFLOW | PUSHTRONIC
     IFLOW - VOLLELEKTRONISCHE WAND-WASCHTISCH-ARMATUR
     komplett mit Mischeinheit, einbaufertig, mit vollelektronischer Temperaturregelung
                                                                                                                                                                      UNTERPUTZ-EINHEBELMISCHER ¾"
                                                                                                                                                                      mit pushtronic Bedienkomfort, mit Keramikkartusche, komplett mit Unterputzkörper,
                                                                                                                                                                                                                                                                                 TEC
                                                                                                                                                                                                                                                                                 SAFETY
     IFLOW - FULL ELECTRONIC WALL MOUNTED BASIN MIXER                                                                                                                 4 Buttons mit unterschiedlichen Symbolen sind im Lieferumfang enthalten,
     complete with thermostatic processor, pre-finished, with full electronic temperature control                                                                     mit Abdeckplatte 145 mm x 200 mm

     IFLOW - MITIGEUR ÉLECTRONIQUE DE LAVABO MURAL                                                                                                                    CONCEALED SINGLE LEVER ¾"
     avec unité de mélange, prêt pour l´installation, avec contrôle électronique de la température                                                                    with pushtronic user comfort, with ceramic headpart, complete with concealed unit,
                                                                                                                                                                      4 buttons with different symbols included, with cover plate 145 mm x 200 mm
     IFLOW – W PEŁNI ELEKTRONICZNA BATERIA UMYWALKOWA NAŚCIENNA
     w komplecie z procesorem termostatycznym, gotowy do montażu, z pełną elektroniczną kontrolą temperatury                                                          MITIGEUR MONO COMMANDE ¾"
                                                                                                                                                                      avec pushtronic sélection, avec cartouche céramique, complet avec corps d'encastrement,
                                                                                                                                                                      Bouton-poussoir marche/arrêt, utilisation simultanée de plusieurs sorties, 4 boutons avec diff. symboles
                                                                                                                                                                      de fonctions inclus, avec plaque de protection 145 mm x 200 mm
                                                                                                                                                                      BATERIA PODTYNKOWA Z MIESZACZEM ¾"
                                                               390 1810 S                                          CO M IN G
                                                                                                                  SOON                                                z komfortową obsługą pushtronic, w komplecie z elementem podtynkowym,
                                                               ohne Mengenregulierung, Ausladung 169 mm
                                                                                                                                                                      4 przyciski z różnymi symbolami w dostarczanym zestawie, z rozetą 145 mm x 200 mm
                                                               without volume control, projection 169 mm
                                                               sans contrôle du volume, projection 169 mm
                                                               bez regulacji ciśnienia, wylewka 169 mm

                          7 l / min                    new           Matt Black      390 1810 S      1.590,00 Euro
                          3 bar
                                                                                                                                                                                                                           390 2221 S
                                                                                                                                                                                                                           für 2 Verbraucher, mit Mengenregulierung
                                                                                                                                                                                                                           for 2 outlets, with volume control
                                                                                                                                                                                                                           pour 2 utilisateurs, avec réglage du débit                          3 bar
                                                               390 1816 S                                                                                                                                                  2 wyjścia, z regulacją ciśnienia
                                                               ohne Mengenregulierung, Ausladung 175 mm
                                                               without volume control, projection 175 mm                                                                                                            new         Matt Black     390 2221 S        930,00 Euro
                                                               sans contrôle du volume, projection 175 mm                                                                                                                                                                           22 l/min           22 l/min
                                                               bez regulacji ciśnienia, wylewka 175 mm
                          7 l / min
                          3 bar
                                                       new           Matt Black      390 1816 S      1.690,00 Euro

                                                                                                                                                                                                                                                                                 STEIN

     IFLOW - VOLLELEKTRONISCHE ARMATUR MIT DIGITALANZEIGE
                                                                                                                                                                      UNTERPUTZ-THERMOSTAT ¾"
                                                                                                                                                                      mit pushtronic Bedienkomfort, komplett mit Unterputzkörper,
                                                                                                                                                                                                                                                                                 TEC
                                                                                                                                                                                                                                                                                 SAFETY
     für bis zu 4 Verbraucher, komplett mit Einbaukörper für Umstell- und Mischeinheit                                                                                4 Buttons mit unterschiedlichen Symbolen sind im Lieferumfang enthalten,
                                                                                                                                                                      mit Abdeckplatte 145 mm x 200 mm
     IFLOW - FULL ELECTRONIC MIXER WITH DIGITAL INDICATIONS
     for up to 4 exits, complete with concealed set for diverter and mixing unit                                                                                      CONCEALED THERMOSTATIC MIXER ¾"
                                                                                                                                                                      with pushtronic user comfort, complete with concealed unit,
     IFLOW - MÉLANGEUR ÉLECTRONIQUE À AFFICHAGE DIGITAL NUMERIQUE                                                                                                     4 buttons with different symbols included, with cover plate 145 mm x 200 mm
     pour maximale 4 sorties, avec unité de commande et de réglage intégrée
                                                                                                                                                                      MÉLANGEUR THERMOSTATIQUE ¾"
     IFLOW – W PEŁNI ELEKTRONICZNA ARMATURA Z CYFROWYM WYŚWIETLACZEM                                                                                                  avec pushtronic sélection, complet avec corps d'encastrement, Bouton-poussoir marche/arrêt,
     dla maksymalny 4 odbiorników, kompletna, z elementem do wbudowania ­zawierającym układy sterowania i regulacji
                                                                                                                                                                      utilisation simultanée de plusieurs sorties, 4 boutons avec diff. symboles de fonctions inclus,
                                                                                                                                                                      avec plaque de protection 145 mm x 200 mm
                                                                                                                                                                      TERMOSTAT PODTYNKOWY ¾"
                                                                                                                                                                      z komfortową obsługą pushtronic, w komplecie z elementem podtynkowym,
                                                               390 4645 S                                                            SU M M ER
                                                                                                                                    2020                              4 przyciski z różnymi symbolami w dostarczanym zestawie, z rozetą 145 mm x 200 mm
                                                               mit intuitivem Bedienkomfort dank Softtouch-Tasten und Digital-
                                                               display, Sicherheitssperre bei 38° C voreingestellt, ohne Mengen­
                                                               regulierung, ½" Ausgänge, mit elektronischer Temperaturregelung
                                                               intuitive with softtouch and digital indication, hot water safety
                                                               function at 38°, without volume control, ½" exits, with electronic
                                                               temperature control
                                                               intuitive avec indication softtouch et digitale, fonction de sécurité
                                                                                                                                                                                                                           390 4221 S
                                                                                                                                                                                                                           für 2 Verbraucher, ohne Mengenregulierung
                                                               eau chaude à 38 °, sans contrôle du volume, sortie ½" avec contrôle
                                                                                                                                                                                                                           for 2 outlets, without volume control
                                                               électronique de la température                                                                                                                                                                                                     3 bar
                                                                                                                                                                                                                           pour 2 utilisateurs, sans réglage de débit
                                                               komfortowa, intuicyjna obsługa dzięki ­panelowi dotykowemu i                                                                                                2 wyjścia, bez regulacji ciśnienia
                                                               cyfrowemu wyświetlaczowi, termiczna ochrona przed poparzeniem
                          15 l / min                           ustawiona na 38° C, bez regulacji ciśnienia wody, wyjścia ½"
                                                                                                                                                                                                                    new         Matt Black     390 4221 S      1.060,00 Euro
                           3 Bar                                                                                                                                                                                                                                                      20 l/min            20 l/min
                                                        new          Matt Black      390 4645 S      2.170,00 Euro

10            LED-Beleuchtung schaltet sich bei Benutzung der iFlow Armatur automatisch ein | LED lighting automatically switches on when iFlow mixer tap is in use                                                                                                                                                       11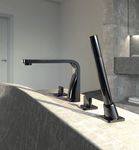 MATT BLACK | SERIES 260
     WASCHTISCH-EINHEBELMISCHER                                                                                                                                       3-LOCH WASCHTISCH-ARMATUR
     mit Keramikkartusche, mit Flexschläuchen 3/8"                                                                                                                    mit 90° Keramikventilen, mit Ablaufgarnitur 1 ¼", mit Verbindungsschläuchen zu den Seitenventilen
     SINGLE LEVER BASIN MIXER                                                                                                                                         3-HOLE BASIN MIXER
     with ceramic cartridge, with flexible hoses 3/8"                                                                                                                 with 90° ceramic headparts, with pop up waste 1 ¼", with connecting hoses to the angle valves
     MITIGEUR MONO COMMANDE DE LAVABO                                                                                                                                 MÉLANGEUR DE LAVABO 3-TROU
     avec cartouche céramique, flexibles 3/8"                                                                                                                         têtes céramique 90°, garniture d'écoulement 1 ¼", avec flexibles pour raccordement bec/robinet d'arrêt
     ARMATURA UMYWALKOWA JEDNOUCHWYTOWA                                                                                                                               3-OTWOROWA ARMATURA ŚCIENNA
     z głowicą ceramiczną, z wężami elastycznymi do podłączenia baterii 3/8"                                                                                          z 90° zaworami ceramicznymi, z korkiem automatycznym 1 ¼", z wężami łączeniowymi zawory

                                                         260 1000 S                                               260 1010 S1                                                                                            mit Kristallgriff im Facettenschliff,                    Anschlussschläuche zu den Seitenventilen
                                                         mit Ablaufgarnitur 1 ¼", Ausladung 158 mm                ohne Ablaufgarnitur, Ausladung 158 mm                                                                  Ausladung 158 mm                                         separat bestellen
                                                         with pop up waste 1 ¼", projection 158 mm                without pop up waste, projection 158 mm
                                                                                                                                                                                                                         with Facet Cut Crystal handle,                           flex hoses between deckvalve and angle valve
                                                         garniture d'écoulement 1 ¼", projection 158 mm           sans garniture d'écoulement, projection 158 mm
                                                                                                                                                                                                                         projection 158 mm                                        not included, order separately
                                                         z korkiem automatycznym 1 ¼", wylewka 158 mm             bez korka automatycznego, wylewka 158 mm
                      5,5 l / min                                                                                                                                                                                        avec poignée en cristal taillées en facettes,            flexibles pour raccordement robinet d'arrêt au
                       3 bar                                                                                                                                                                                             projection 158 mm                                        robinet équerre à commander apart
                                                              Matt Black       260 1000 S    500,00 Euro               Matt Black     260 1010 S1       500,00 Euro
                                                                                                                                                                                                                         z kryształowymi zaworami wykończonymi                    węże podłączeniowe do zaworów kątowych
                                                                                                                                                                                                                         szlifem fasetkowym, wylewka 158 mm                       zamawiać oddzielnie
                                                                                                                                                                                              8,4 l / min
                                                                                                                                                                                               3 bar                                                                              099 9232                                 69,00 Euro
                                                                                                                                                                                                                         Matt Black Frozen 360 2000 76           1.390,00 Euro

                                                         260 1700 S                                                                                                                                                      Matt Black Black       360 2000 77      1.390,00 Euro
                                                         ohne Ablaufgarnitur, Ausladung 183 mm
                                                         without pop up waste, projection 183 mm
                                                         sans garniture d'écoulement, projection 183 mm
                                                         bez korka automatycznego, wylewka 183 mm

                                                              Matt Black       260 1700 S    700,00 Euro
                        5,5 l / min
                         3 bar                                                                                                                                        FREISTEHENDE WANNEN-ARMATUR
                                                                                                                                                                      FREE STANDING BATH MIXER
                                                                                                                                                                      BATTERIE BAIN SUR PIEDS
                                                                                                                                                                      ARMATURA DO WANNY WOLNOSTOJĄCEJ

     WASCHTISCH-WAND-EINHEBELMISCHER
     Fertigmontageset mit Keramikkartusche
     WALL MOUNTED SINGLE LEVER BASIN MIXER                                                                                                                                                                               260 1162 S
     Finish set with ceramic cartridge                                                                                                                                                                                   mit Keramikkartusche, eigensicher gegen                                                 STEIN

     MITIGEUR MONO COMMANDE DE LAVABO MURAL
                                                                                                                                                                                                                         Rückfließen, mit Umsteller und Handbrause,
                                                                                                                                                                                                                         Ausladung 220 mm
                                                                                                                                                                                                                                                                                                                 TEC
                                                                                                                                                                                                                                                                                                                      
                                                                                                                                                                                                                                                                                                                 SAFETY

     Jeu de finition avec cartouche céramique
                                                                                                                                                                                                                         with ceramic cartridge, intrinsically safe
     ARMATURA UMYWALKOWA JEDNOUCHWYTOWA ŚCIENNA                                                                                                                                                                          against backflow, with diverter and hand
                                                                                                                                                                                                                         shower, projection 220 mm
     Element zewnętrzny z głowicą ceramiczną
                                                                                                                                                   STEIN                                                                 avec cartouche céramique, sécurité contre le
                                                                                                                                                   TEC
                                                                                                                                                        
                                                                                                                                                   SAFETY
                                                                                                                                                                                                                         reflux, avec inverseur et douchette à main,
                                                                                                                                                                                                                         projection 220 mm
                                                                                                                                                                                                                                                                                  Einbaukörper separat bestellen
                                                                                                                                                                                                                                                                                  Concealed set order separately
                                                                                                                                                                                                                         z głowicą ceramiczną, zabezpieczenie                     Corps d'encastrement à commander séparément
                                                                                                                                                                                                                                                                                  Element podtynkowy z podłączeniami zamawiać
                                                         260 1814 S                                               Einbaukörper separat bestellen
                                                                                                                                                                                                                         przepływów zwrotnych, z przełącznikiem na
                                                                                                                                                                                                                         słuchawkę, wylewka 220 mm                                oddzielnie
                                                         Ausladung 205 mm                                         Concealed set order separately                               17,1 l / min
                                                         projection 205 mm                                        Corps d'encastrement à commander séparément                  13,1 l / min
                                                         projection 205 mm                                        Element podtynkowy z podłączeniami zamawiać                    3 bar                                        Matt Black         260 1162 S      2.800,00 Euro    020 1162                                310,00 Euro
                                                         wylewka 205 mm                                           oddzielnie
                     11 l / min
                      3 bar
                                                              Matt Black       260 1814 S    450,00 Euro               Matt Black     010 1800 S        279,00 Euro

                                                                                            099 1825 S | Verlängerungsset 25 mm | Extension set 25 mm | 93,00 Euro                                                    100 1640 S                         100 1696 S              100 1693 S
                                                                                                                                                                                                                      49,00 Euro                         175,00 Euro             82,50 Euro
12                                                                                                                                                                                                                                                                                                                                          13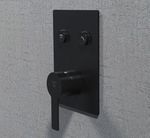 MATT BLACK | SERIES 260
     WANNE/BRAUSE-EINHEBELMISCHER                                                                                                                                       UNTERPUTZ-THERMOSTAT
     Fertigmontageset mit Umsteller                                                                                                                                     Fertigmontageset mit 3-Wege-Umsteller
     SINGLE LEVER BATH/SHOWER MIXER                                                                                                                                     CONCEALED THERMOSTATIC MIXER
     finish set with diverter                                                                                                                                           finish set with 3 way diverter

     MITIGEUR MONO COMMANDE BAIN/DOUCHE                                                                                                                                 MÉLANGEUR THERMOSTATIQUE
     jeu de finition avec inverseur                                                                                                                                     jeu de finition avec inverseur a 3 voies intégrées

     JEDNOUCHWYTOWA BATERIA WANNOWA/NATRYSKOWA                                                                                                                          TERMOSTAT PODTYNKOWY
     element zewnętrzny z przełącznikiem                                                                                                                                element zewnętrzny z trójdrożnym przełącznikiem

                                                                                                                                                                                                                                                                                                                          STEIN
                                                                                                                                                 STEIN
                                                                                                                                                    TEC
                                                                                                                                                         
                                                                                                                                                    SAFETY
                                                                                                                                                                                                                                                                                                                          TEC
                                                                                                                                                                                                                                                                                                                               
                                                                                                                                                                                                                                                                                                                          SAFETY

                                                          260 2103 S                                               Einbaukörper separat bestellen                                                                             100 4123 1 S                                               Einbaukörper separat bestellen
                                                                                                                                                                                                                                                                                         Concealed set order separately
                                                          mit Abdeckplatte ø 185 mm                                Concealed set order separately                                                                             mit Abdeckplatte ø 190 mm
                                                                                                                                                                                                                                                                                         Corps d'encastrement à commander séparément
                                                          with cover plate ø 185 mm                                Corps d'encastrement à commander séparément                                                                with cover plate ø 190 mm
                                                                                                                                                                                                                                                                                         Element podtynkowy z podłączeniami zamawiać
                                                          avec plaque de protection ø 185 mm                       Element podtynkowy z podłączeniami zamawiać                                                                avec plaque de protection ø 190 mm
                                                                                                                                                                                                                                                                                         oddzielnie
                                                          z rozetą ø 185 mm                                        oddzielnie                                                                                                 z rozetą ø 190 mm

                                                              Matt Black       260 2103 S      385,00 Euro              Matt Black       010 2110 S       239,00 Euro                                                             Matt Black       100 4123 1 S     479,00 Euro               Matt Black     010 4130 S      600,00 Euro

                                                                                                                                                                                               12,5 l / min
                                                                                            099 2105 S | Verlängerungsset 25 mm | Extension set 25 mm | 130,00 Euro                             3 bar                                                             099 4126 S | Verlängerungsset 25 mm | Extension set 25 mm | 219,00 Euro
                       18,6 l / min
                       13,8 l / min
                        3 bar

                                                                                                                                                                        REGENBRAUSE
     UNTERPUTZ-THERMOSTAT                                                                                                                                               mit Easy Clean, in Verbindung mit Brausearm 100 7910 S oder 100 1571 S
     Fertigmontageset mit 2-Wege-Umsteller
                                                                                                                                                                        RAIN SHOWER HEAD
     CONCEALED THERMOSTATIC MIXER                                                                                                                                       with Easy Clean, to use with shower arm 100 7910 S or 100 1571 S
     finish set with 2 way diverter
                                                                                                                                                                        DOUCHE DE TÊTE
     MÉLANGEUR THERMOSTATIQUE                                                                                                                                           avec système anticalcaire "Easy Clean", à utiliser avec bras 100 7910 S ou 100 1571 S
     jeu de finition avec inverseur a 2 voies intégrées
                                                                                                                                                                        DESZCZOWNICA
     TERMOSTAT PODTYNKOWY                                                                                                                                               z systemem Easy Clean, tylko z ramieniem 100 7910 S lub 100 1571 S
     element zewnętrzny z dwudrożnym przełącznikiem
                                                                                                                                                    STEIN
                                                                                                                                                    TEC
                                                                                                                                                         
                                                                                                                                                    SAFETY

                                                                                                                                                                                                                              100 1687 S
                                                                                                                                                                                                                              ø 200 mm x 8 mm

                                                          100 4133 1 S                                             Einbaukörper separat bestellen
                                                                                                                   Concealed set order separately
                                                                                                                                                                                                                        new        Matt Black      100 1687 S        229,00 Euro
                                                          mit Abdeckplatte ø 190 mm
                                                                                                                   Corps d'encastrement à commander séparément
                                                          with cover plate ø 190 mm
                                                                                                                   Element podtynkowy z podłączeniami zamawiać
                                                          avec plaque de protection ø 190 mm
                                                          z rozetą ø 190 mm
                                                                                                                   oddzielnie                                                                                                 100 1686 S                                                 100 1688 S
                                                                                                                                                                            20 l / min                                        ø 250 mm x 8 mm                                            ø 300 mm x 8 mm
                                                                                                                                                                             3 bar
                                                              Matt Black     100 4133 1 S      479,00 Euro              Matt Black     010 4140 S         560,00 Euro
                                                                                                                                                                                                                                   Matt Black      100 1686 S        320,00 Euro              Matt Black     100 1688 S      479,00 Euro

                                                                                            099 4126 S | Verlängerungsset 25 mm | Extension set 25 mm | 219,00 Euro
                        12,5 l / min
                         3 bar

                                                                                                                                                                                                                                     100 7910 S                       100 1571 S
                                                                                                                                                                                                                                     190,00 Euro                      72,00 Euro

14                                                                                                                                                                                                                                                                                                                                              15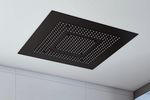 MATT BLACK | SERIES 260
                                                                                                                                                                                   099 9654 S
     Brausegarnitur        100 1601 S                                                                                                                                              3-fach verstellbar mit pushtronic, mit Easy Clean
                           mit Brausestange 900 mm, mit Metall-Stabhand-
     Shower set
                           brause, mit Kunststoff-Brauseschlauch 1800 mm               Handbrause                                                                                  3 functions with pushtronic, with Easy Clean
     Garniture de douche                                                                                                                                                           réglable en 3 positions avec pushtronic,
                           with slide rail 900 mm, with metallic hand shower,          Hand shower                                                                                 avec anticalcaire "Easy Clean"
     Zestaw natryskowy     with plastic shower hose 1800 mm
                                                                                       Douchette à main en ABS                                                                     3 funkcyjna, z pushtronic, z Easy Clean
                           avec barre de douche 900 mm,
                           avec douchette à main métallique,                           Słuchawka prysznicowa
                           avec flexible de douche plastique 1800 mm                                                                                                         new        Matt Black       099 9654 S           65,00 Euro
                           z drążkiem do słuchawki 900 mm, ze słuchawką,
                           z wąż natryskowy – Plastikowy 1800 mm

                                Matt Black         100 1601 S       299,00 Euro

                                                                                                                                                                                   100 1660 S
                                                                                       Brauseanschlussbogen ½"                                                                     eigensicher gegen Rückfließen
                                                                                                                                                                                   intrinsically safe against backflow
                                                                                       Wall mounted elbow outlet ½"                                                                sécurité contre le reflux
                                                                                                                                                                                   zabezpieczenie przepływów zwrotnych
                                                                                       Sortie mural laiton ½"
                                                                                       Przyłącze kątowe ½"
                                                                                                                                                                             new        Matt Black       100 1660 S           65,00 Euro
     Handbrausegarnitur    100 1670 S
     Hand shower set       mit Metall-Stabhandbrause, mit integriertem
     Garniture de douche   Brauseanschlussbogen ½", mit Wandhalter, mit
                           Kunststoff-Brauseschlauch 1500 mm, eigensicher
     Zestaw natryskowy     gegen Rückfließen
                           with metallic hand shower, with integrated wall
                           ­elbow ½", with wall bracket, with plastic shower
                            hose 1500 mm, intrinsically safe against backflow                                                                                                      099 9417 S
                           avec douchette à main métallique, avec sortie                                                                                                           1500 mm, Ü ½" x Konus ½"
                           ­mural ½" ­intégrée, avec support mural, avec flexible de                                                                                               1500 mm, Ü ½" x cone seat ½"
                            douche plastique 1500 mm, sécurité contre le reflux                                                                                                    1500 mm, Ü ½" x cône ½"
                           ze słuchawką, lementem do podłączenia natrysku                                                                                                          1500 mm, Ü ½" x stożek ½"
                           ½", z uchwytem ściennym, z wąż natryskowy –
                           Plastikowy 1500 mm, zabezpieczenie przepływów               Kunststoff-Brauseschlauch                                                             new        Matt Black       099 9417 S           33,10 Euro
                           zwrotnych                                                   Plastic shower hose
                                                                                       Flexible de douche plastique                                                                099 9419 S
                                Matt Black         100 1670 S       205,00 Euro        Wąż natryskowy – Plastikowy                                                                 1800 mm, Ü ½" x Konus ½"
                                                                                                                                                                                   1800 mm, Ü ½" x cone seat ½"
                                                                                                                                                                                   1800 mm, Ü ½" x cône ½"
                                                                                                                                                                                   1800 mm, Ü ½" x stożek ½"

                                                                                                                                                                             new        Matt Black       099 9419 S           36,10 Euro

     Handbrausegarnitur    100 1650 S
                           mit Metall-Stabhandbrause, mit Wandhalter,
     Hand shower set
                           mit Kunststoff-Brauseschlauch 1500 mm
     Garniture de douche   with metallic hand shower, with wall bracket,
     Zestaw natryskowy     with plastic shower hose 1500 mm                            Brause Wandhalter                    100 1665 S                                             100 1667 S
                           avec douchette à main métallique, avec support                                                   ohne integrierten Brauseanschlussbogen                 mit integriertem Brauseanschlussbogen
                                                                                       Shower wallbracket
                           mural, avec flexible de douche plastique 1500 mm                                                 without integrated wall bracket                        with integrated wall elbow
                           ze słuchawką, z uchwytem ściennym,
                                                                                       Support mural                        sans sortie murale et coude intégré                    avec sortie murale et coude intégré
                           z wąż natryskowy – Plastikowy 1500 mm                       Uchwyt ścienny słuchawki             bez zintegrowanego przyłącza kątowego                  ze zintegrowanym przyłączem kątowym

                                Matt Black         100 1650 S       149,00 Euro                                       new       Matt Black      100 1665 S      76,00 Euro   new        Matt Black       100 1667 S          126,00 Euro

16                                                                                                                                                                                                                                             17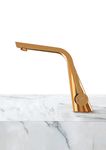 MATT BLACK | SERIES 100
     WASCHTISCH-EINHEBELMISCHER                                                                                                                                                    WASCHTISCH-WAND-EINHEBELMISCHER
     mit Keramikkartusche, mit Flexschläuchen 3/8"                                                                                                                                 Fertigmontageset mit Keramikkartusche
     SINGLE LEVER BASIN MIXER                                                                                                                                                      WALL MOUNTED SINGLE LEVER BASIN MIXER
     with ceramic cartridge, with flexible hoses 3/8"                                                                                                                              Finish set with ceramic cartridge
     MITIGEUR MONO COMMANDE DE LAVABO                                                                                                                                              MITIGEUR MONO COMMANDE DE LAVABO MURAL
     avec cartouche céramique, avec flexibles 3/8"                                                                                                                                 Jeu de finition avec cartouche céramique
     ARMATURA UMYWALKOWA JEDNOUCHWYTOWA                                                                                                                                            ARMATURA UMYWALKOWA JEDNOUCHWYTOWA ŚCIENNA
     z głowicą ceramiczną, z wężami elastycznymi do podłączenia baterii 3/8"                                                                                                       Element zewnętrzny z głowicą ceramiczną
                                                                                                                                                                                                                                                                                                                             STEIN
                                                                                                                                                                                                                                                                                                                             TEC
                                                                                                                                                                                                                                                                                                                                  
                                                                                                                                                                                                                                                                                                                             SAFETY

                                                                                                                                                                                                                                       100 1804 S           CO M IN G
                                                                                                                                                                                                                                                            SOON                          Einbaukörper separat bestellen
                                                                                                                                                                                                                                       Ausladung 165 mm                                   Concealed set order separately
                                                                                                                                                                                                                                       projection 165 mm                                  Corps d'encastrement à commander séparément
                                                                                                                                                                                                                                       projection 165 mm                                  Element podtynkowy z podłączeniami zamawiać
                                                                                                                                                                                                                                       wylewka 165 mm                                     oddzielnie

                                                                                                                                                                                                       6 l / min
                                                                                                                                                                                                       3 bar                     new       Matt Black      100 1804 S       229,00 Euro        Matt Black       010 1800 S        279,00 Euro

            6 l / min                                                           6 l / min                                               6 l / min
            3 Bar                                                               3 Bar                                                   3 bar
                                                                                                                                                                                                                                       100 1814 S                                         100 1824 S
                                                                                                                                                                                                                                       Ausladung 195 mm                                   Ausladung 245 mm
     100 1000 S                                                    100 1700 S                                                100 1500 S                                                                                                projection 195 mm
                                                                                                                                                                                                                                       projection 195 mm
                                                                                                                                                                                                                                                                                          projection 245 mm
     mit Ablaufgarnitur 1 ¼", Ausladung 102 mm                     ohne Ablaufgarnitur, Ausladung 128 mm                     mit schwenkbarem Auslauf, mit Ablaufgarnitur                                                                                                                 projection 245 mm
     with pop up waste 1 ¼", projection 102 mm                     without pop up waste, projection 128 mm                   1 ¼", ­Ausladung 155 mm                                                                                   wylewka 195 mm                                     wylewka 245 mm
     avec garniture d'écoulement 1 ¼", projection 102 mm           sans garniture d'écoulement, projection 128 mm            swivel spout, with pop up waste 1 ¼",
     z korkiem automatycznym 1 ¼", wylewka 102 mm                  bez korka automatycznego, wylewka 128 mm                                                                               099 1825 S | Verlängerungsset 25 mm
                                                                                                                             projection 155 mm                                                                                             Matt Black      100 1814 S       239,00 Euro        Matt Black       100 1824 S       259,00 Euro
                                                                                                                                                                                              Extension set 25 mm | 93,00 Euro
                                                                                                                             avec bec pivotant, garniture d'écoulement 1 ¼",
          Matt Black     100 1000 S      275,00 Euro                    Matt Black      100 1700 S     419,00 Euro           projection 155 mm
                                                                                                                             z obrotową wylewką, z korkiem automatycznym
                                                                                                                             1 ¼", wylewka 155 mm
     100 1010 S
     ohne Ablaufgarnitur, Ausladung 102 mm
     without pop up waste, projection 102 mm
                                                                                                                                  Matt Black          100 1500 S     335,00 Euro                                                                                                          100 2500 S
                                                                                                                                                                                                                                                                                          mit Keramikkartusche, mit Flexschlauch
     sans garniture d'écoulement, projection 102 mm
                                                                                                                                                                                                                                                                                          Ü ½" x Ü 3/8", Ausladung 100 mm
     bez korka automatycznego, wylewka 102 mm
                                                                                                                                                                                   KALTWASSER-ARMATUR                                                                                     with ceramic cartridge, with flexible hose
                                                                                                                                                                                                                                                                                          Ü ½" x Ü 3/8", projection 100 mm
          Matt Black     100 1010 S      275,00 Euro
                                                                                                                                                                                   PILLAR TAP                                                                                             avec cartouche céramique,
                                                                                                                                                                                                                                                                                          avec flexible Ü ½" x Ü 3/8", projection 100 mm
                                                                                                                                                                                   ROBINET DE SERVICE
                                                                                                                                                                                                                                                                                          z głowicą ceramiczną, z wężami elastycznymi do
                                                                                                                                                                     CO M IN G
                                                                                                                                                                     SOON          ARMATURA DO ZIMNEJ WODY                                                                                podłączenia baterii Ü ½" x Ü 3/8", wylewka 100 mm

                                                                                                                                                                                                                                                                        10 l / min
                                                                                                                                                                                                                                                                         3 bar                 Matt Black       100 2500 S       159,00 Euro

     SPÜLTISCH-EINHEBELMISCHER
     mit Keramikkartusche, mit Flexschläuchen 3/8"
                                                                                                                                        6,8 l / min
     SINGLE LEVER SINK MIXER                                                                                                             3 bar
     with ceramic cartridge, with flexible hoses 3/8"                                                                                                                                                                                                                                     100 1300 S
     MITIGEUR SEMI-PROFESSIONNEL DE CUISINE                                                                                  100 1400 S                                                                                                                                                   mit Keramikkartusche, mit Ablaufgarnitur 1 ¼",
                                                                                                                                                                                                                                                                                          mit Flexschläuchen 3/8", Ausladung 110 mm
                                                                                                                             mit schwenkbarem Auslauf, Ausladung 201 mm
     avec cartouche céramique, avec flexibles 3/8"                                                                           swivel spout, projection 201 mm                       BIDET-EINHEBELMISCHER                                                                                  with ceramic cartridge, with pop up waste 1 ¼",
                                                                                                                                                                                                                                                                                          with flexible hoses 3/8", projection 110 mm
     ARMATURA ZLEWOZMYWAKOWA JEDNOUCHWYTOWA                                                                                  avec bec pivotant, projection 201 mm
                                                                                                                             z obrotową wylewką, wylewka 201 mm                    SINGLE LEVER BIDET MIXER                                                                               avec cartouche céramique, avec garniture
     z głowicą ceramiczną, z wężami elastycznymi do podłączenia baterii 3/8"
                                                                                                                                                                                                                                                                                          ­d'écoulement 1 ¼", avec flexibles 3/8",
                                                                                                                      new         Matt Black          100 1400 S     360,00 Euro   MITIGEUR MONO COMMANDE DE BIDET                                                                        projection 110 mm
                                                                                                                                                                                                                                                                                          z głowicą ceramiczną, z korkiem automatycznym
                                                                                                                                                                                   ARMATURA BIDETOWA JEDNOUCHWYTOWA                                                      6 l / min        1 ¼", z wężami elastycznymi do podłączenia
                                                                                                                                                                                                                                                                         3 bar            ­baterii 3/8", wylewka 110 mm

                                                                                                                                                                                                                                                                                               Matt Black       100 1300 S       315,00 Euro
                                                      100 1640 S                       100 1696 S                    100 1693 S
                                                      49,00 Euro                       175,00 Euro                   82,50 Euro
18                                                                                                                                                                                                                                                                                                                                                  19
MATT BLACK | SERIES 100
     FREISTEHENDE WANNEN-ARMATUR                                                                                                                                        WAND-AUSLAUF FÜR WASCHTISCH ODER WANNE
     mit 90° Keramikventilen, eigensicher gegen Rückfließen                                                                                                             WALL SPOUT FOR BASIN OR BATHTUB
     FREE STANDING BATH MIXER                                                                                                                                           BEC MURAL POUR LAVABO OU BAIGNOIRE
     with 90° ceramic headparts, intrinsically safe against backflow
                                                                                                                                                                        WYLEWKA DO WANNY LUB UMYWALKI
     BATTERIE BAIN SUR PIEDS
     avec têtes céramique 90°, sécurité contre le reflux
     ARMATURA DO WANNY WOLNOSTOJĄCEJ
     z 90° zaworami ceramicznymi, zabezpieczenie przepływów zwrotnych
                                                                                                                                                                                                                              100 2310 S
                                                                                                                                                                                                                              Ausladung 195 mm
                                                                                                                                                                                                                              projection 195 mm
                                                                                                                                                                                                                              projection 195 mm
                                                                                                                                                                                                                              wylewka 195 mm

                                                             100 1162 S                                                                                                                                                 new           Matt Black   100 2310 S     175,00 Euro
                                                             mit Umsteller und Handbrause,
                                                             Ausladung 153 mm
                                                             with diverter and hand shower,
                                                             projection 153 mm
                                                                                                                   Einbaukörper separat bestellen
                                                             avec inverseur et ­douchette à main,                  Concealed set order separately
                                                             projection 153 mm                                     Corps d'encastrement à commander séparément
                                                             z przełącznikiem na słuchawkę,                        Element podtynkowy z podłączeniami zamawiać
                                                             wylewka 153 mm                                        oddzielnie
                                                                                                                                                                        AUFPUTZ-EINHEBELMISCHER ½"
                                                                                                                                                                        mit Keramikkartusche, eigensicher gegen Rückfließen
                                                                  Matt Black      100 1162 S         950,00 Euro   010 1160                            195,00 Euro
       15,6 l / min
       13,2 l / min
                                                                                                                                                                        EXPOSED SINGLE LEVER MIXER ½"
         3 bar                                                                                                                                                          with ceramic cartridge, intrinsically safe against backflow
                                                                                                                                                                        MITIGEUR MONO COMMANDE ½" MURAL
                                                                                                                                                                        avec cartouche céramique, sécurité contre le reflux
                                                                                                                                                                        ARMATURA JEDNOUCHWYTOWA NATYNKOWA ½"
                                                                                                                                                                        z głowicą ceramiczną, z przełącznikiem na słuchawkę, zabezpieczenie przepływów zwrotnych

     4-LOCH WANNENRAND-ARMATUR
     mit 90° Keramikventilen, eigensicher gegen Rückfließen, mit Verbindungsschläuchen
     zu den Seitenventilen, Anschlussschläuche zu den Seitenventilen bauseits
                                                                                                                                                                                                                              100 1100 S
     4-HOLE DECK MOUNTED BATH MIXER                                                                                                                                                                                           für Wanne
     with 90° ceramic headparts, intrinsically safe against backflow,                                                                                                                                                         mit Umsteller, Ausladung 185 mm
     flex hoses between deck-valve and angle valve not inlcuded
                                                                                                                                                                                                                              for bathtub
     BATTERIE BAIN 4 TROUS SUR GORGE                                                                                                                                                                                          with diverter, projection 185 mm
     têtes céramique 90°, sécurité contre le reflux,                                                                                                                                                                          pour le bain
     avec flexibles pour le raccorder robinet d'arrêt /bec                                                                                                                                                                    avec inverseur, projection 185 mm
                                                                                                                                                                                                                              do wanny
     4-OTWOROWA ARMATURA WANNOWA                                                                                                                                                         15 l / min 16 l / min                z przełącznikiem na słuchawkę, wylewka 185 mm
     z 90° zaworami ceramicznymi, z wylewką, zabezpieczenie przepływów zwrotnych,                                                                                                                3 bar
     z wężami łączeniowymi zawory
                                                                                                                                                                                                                                      Matt Black   100 1100 S     419,00 Euro

                                                             100 2400 S
                                                             mit Umsteller und ausziehbarer Handbrause,                                          STEIN
                                                             mit schwenkbarem Auslauf, Ausladung 192 mm
                                                             with diverter and pull-up handshower,
                                                                                                                                                 TEC
                                                                                                                                                       
                                                                                                                                                  SAFETY                                                                      100 1220 S
                                                             with swivel spout, projection 192 mm                                                                                                                             für Dusche
                                                             avec inverseur, avec pomme de douche                                                                                                                             for shower
                                                                                                                   Montagegestell separat bestellen
                                                             ­télescopique, bec pivotant, projection 192 mm        Mounting frame order separately                                                                            pour le douche
                                                             z przełącznikiem i wyciąganą słuchawką,               Bâti support d'installation à commander séparément                                                         do prysznica
                                                             z obrotową wylewką, wylewka 192 mm                    Stelaż montażowy zamawiać oddzielnie

                      18 l / min 13 l / min                                                                                                                                                19,5 l / min                               Matt Black   100 1220 S     349,00 Euro
                              3 bar                 new           Matt Black      100 2400 S         875,00 Euro   100 9511                            625,00 Euro                           3 bar

20                                                                                                                                                                                                                                                                                  21
MATT BLACK | SERIES 100
     WANNE/BRAUSE-EINHEBELMISCHER                                                                                                                                     UNTERPUTZ-THERMOSTAT
     Fertigmontageset mit Umsteller                                                                                                                                   Fertigmontageset mit 3-Wege-Umsteller
     SINGLE LEVER BATH/SHOWER MIXER                                                                                                                                   CONCEALED THERMOSTATIC MIXER
     finish set with diverter                                                                                                                                         finish set with 3 way diverter

     MITIGEUR MONO COMMANDE BAIN/DOUCHE                                                                                                                               MÉLANGEUR THERMOSTATIQUE
     jeu de finition avec inverseur                                                                                                                                   jeu de finition avec inverseur a 3 voies intégrées

     JEDNOUCHWYTOWA BATERIA WANNOWA/NATRYSKOWA                                                                                                                        TERMOSTAT PODTYNKOWY
     element zewnętrzny z przełącznikiem                                                                                                                              element zewnętrzny z trójdrożnym przełącznikiem
                                                                                                                                                 STEIN
                                                                                                                                                 TEC
                                                                                                                                                       
                                                                                                                                                  SAFETY
                                                                                                                                                                                                                                                                                                                        STEIN
                                                                                                                                                                                                                                                                                                                        TEC
                                                                                                                                                                                                                                                                                                                             
                                                                                                                                                                                                                                                                                                                        SAFETY

                                                          100 2103 S                                               Einbaukörper separat bestellen
                                                          mit Abdeckplatte 120 mm x 185 mm
                                                          with cover plate 120 mm x 185 mm
                                                                                                                   Concealed set order separately                                                                           100 4123 1 S                                               Einbaukörper separat bestellen
                                                                                                                                                                                                                                                                                       Concealed set order separately
                                                                                                                   Corps d'encastrement à commander séparément                                                              mit Abdeckplatte ø 190 mm
                                                          avec plaque de protection 120 mm x 185 mm                Element podtynkowy z podłączeniami zamawiać                                                                                                                         Corps d'encastrement à commander séparément
                                                                                                                                                                                                                            with cover plate ø 190 mm
                                                          z rozetą 120 mm x 185 mm                                 oddzielnie                                                                                                                                                          Element podtynkowy z podłączeniami zamawiać
                                                                                                                                                                                                                            avec plaque de protection ø 190 mm
                                                                                                                                                                                                                                                                                       oddzielnie
                                                                                                                                                                                                                            z rozetą ø 190 mm
                                                              Matt Black      100 2103 S       239,00 Euro              Matt Black      010 2110 S     239,00 Euro
                    18,6 l / min 13,8 l / min                                                                                                                                                                                   Matt Black       100 4123 1 S     479,00 Euro               Matt Black     010 4130 S      600,00 Euro
                              3 bar

                                                                                            099 2105 S | Verlängerungsset 25 mm | Extension set 25 mm |130,00 Euro                        12,5 l / min
                                                                                                                                                                                           3 bar                                                                099 4126 S | Verlängerungsset 25 mm | Extension set 25 mm | 219,00 Euro

     UNTERPUTZ-THERMOSTAT                                                                                                                                             REGENBRAUSE
     Fertigmontageset mit 2-Wege-Umsteller                                                                                                                            mit Easy Clean, in Verbindung mit Brausearm 100 7910 S oder 100 1571 S
     CONCEALED THERMOSTATIC MIXER                                                                                                                                     RAIN SHOWER HEAD
     finish set with 2 way diverter                                                                                                                                   with Easy Clean, to use with shower arm 100 7910 S or 100 1571 S
     MÉLANGEUR THERMOSTATIQUE                                                                                                                                         DOUCHE DE TÊTE
     jeu de finition avec inverseur a 2 voies intégrées                                                                                                               avec système anticalcaire "Easy Clean", à utiliser avec bras 100 7910 S ou 100 1571 S
     TERMOSTAT PODTYNKOWY                                                                                                                                             DESZCZOWNICA
     element zewnętrzny z dwudrożnym przełącznikiem                                                                                                                   z systemem Easy Clean, tylko z ramieniem 100 7910 S lub 100 1571 S
                                                                                                                                                  STEIN
                                                                                                                                                  TEC
                                                                                                                                                       
                                                                                                                                                  SAFETY

                                                                                                                                                                                                                            100 1687 S
                                                                                                                                                                                                                            ø 200 mm x 8 mm
                                                          100 4133 1 S                                             Einbaukörper separat bestellen
                                                                                                                   Concealed set order separately
                                                          mit Abdeckplatte ø 190 mm                                                                                                                                   new        Matt Black      100 1687 S        229,00 Euro
                                                                                                                   Corps d'encastrement à commander séparément
                                                          with cover plate ø 190 mm
                                                                                                                   Element podtynkowy z podłączeniami zamawiać
                                                          avec plaque de protection ø 190 mm
                                                                                                                   oddzielnie
                                                          z rozetą ø 190 mm                                                                                                                                                 100 1686 S                                                 100 1688 S
                                                                                                                                                                          20 l / min                                        ø 250 mm x 8 mm                                            ø 300 mm x 8 mm
                                                              Matt Black     100 4133 1 S      479,00 Euro              Matt Black      010 4140 S     560,00 Euro         3 bar

                                                                                                                                                                                                                                 Matt Black      100 1686 S        320,00 Euro              Matt Black     100 1688 S      479,00 Euro
                           12,5 l / min
                            3 bar                                                           099 4126 S | Verlängerungsset 25 mm | Extension set 25 mm | 219,00 Euro

                                                                                                                                                                                                                                   100 7910 S                       100 1571 S
                                                                                                                                                                                                                                   190,00 Euro                      72,00 Euro

22                                                                                                                                                                                                                                                                                                                                            23
MATT BLACK | SERIES 100
     Brauseset             100 2721 S                                                                                                                                              100 1650 S
                                                                                                                                                                                   mit Metall-Stabhandbrause, mit Wandhalter,
     Overhead shower set   komplett mit Thermostatarmatur, mit Regenbrause
                                                                                                                                                                                   mit Kunststoff-Brauseschlauch 1500 mm
                           und mit Metall-Stabhandbrause, mit Gleiter,
     Colonne de douche     mit schwenkbarem und höhenverstellbarem                     Handbrausegarnitur                                                                          with metallic hand shower, with wall bracket,
     Zestaw natryskowy     ­Regenbrausearm (bei Installation)
                                                                                       Hand shower set
                                                                                                                                                                                   with plastic shower hose 1500 mm
                           complete with thermostatic shower mixer, with rain                                                                                                      avec douchette à main métallique, avec support
                           shower and with metallic hand shower, with sliding          Garniture de douche                                                                         mural, avec flexible de douche plastique 1500 mm
                           bracket on the rail, with swivel and heigh adjustable       Zestaw natryskowy                                                                           ze słuchawką, z uchwytem ściennym,
                           shower arm (during installation)                                                                                                                        z wąż natryskowy – Plastikowy 1500 mm
                           avec mélangeur thermostatique, avec douche de
                           tête et d­ ouchette à main, avec curseur, hauteur                                                                                                            Matt Black       100 1650 S          149,00 Euro
                           réglable (pendant installation)
                           kompletny z armaturą termostatyczną, z
                           deszczownicą i ­słuchawką, z regulowanym uchwy-
                           tem, z obracanym i regulowanym ramieniem
                           deszczownicy (podczas montażu)
                                                                                                                                                                                   099 9654 S
                                                                                                                                                                                   3-fach verstellbar mit pushtronic, mit Easy Clean
                                Matt Black       100 2721 S       1.290,00 Euro
                                                                                       Handbrause                                                                                  3 functions with pushtronic, with Easy Clean
                                                                                       Hand shower                                                                                 réglable en 3 positions avec pushtronic,
                                                                                                                                                                                   avec anticalcaire "Easy Clean"
                                                                                       Douchette à main en ABS
                                                                                                                                                                                   3 funkcyjna, z pushtronic, z Easy Clean
                                                                                       Słuchawka prysznicowa
                                                                                                                                                                             new        Matt Black       099 9654 S           65,00 Euro

     Brausegarnitur        100 1601 S                                                                                                                                              100 1660 S
                           mit Brausestange 900 mm, mit Metall-Stabhand­
     Shower set
                           brause, mit Kunststoff-Brauseschlauch 1800 mm               Brauseanschlussbogen ½"                                                                     eigensicher gegen Rückfließen
                                                                                                                                                                                   intrinsically safe against backflow
     Garniture de douche   with slide rail 900 mm, with metallic hand shower,          Wall mounted elbow outlet ½"                                                                sécurité contre le reflux
     Zestaw natryskowy     with plastic shower hose 1800 mm                                                                                                                        zabezpieczenie przepływów zwrotnych
                                                                                       Sortie mural laiton ½"
                           avec barre de douche 900 mm,
                           avec douchette à main métallique,                           Przyłącze kątowe ½"
                           avec flexible de douche plastique 1800 mm                                                                                                         new        Matt Black       100 1660 S           65,00 Euro
                           z drążkiem do słuchawki 900 mm, ze słuchawką,
                           z wąż natryskowy – Plastikowy 1800 mm

                                Matt Black          100 1601 S      299,00 Euro
                                                                                                                                                                                   099 9417 S
                                                                                                                                                                                   1500 mm, Ü ½" x Konus ½"
                                                                                                                                                                                   1500 mm, Ü ½" x cone seat ½"
                                                                                                                                                                                   1500 mm, Ü ½" x cône ½"
                                                                                                                                                                                   1500 mm, Ü ½" x stożek ½"

                                                                                       Kunststoff-Brauseschlauch                                                             new        Matt Black       099 9417 S           33,10 Euro
                                                                                       Plastic shower hose
                                                                                       Flexible de douche plastique                                                                099 9419 S
     Handbrausegarnitur    100 1670 S                                                  Wąż natryskowy – Plastikowy                                                                 1800 mm, Ü ½" x Konus ½"
     Hand shower set       mit Metall-Stabhandbrause, mit integriertem                                                                                                             1800 mm, Ü ½" x cone seat ½"
                           ­Brauseanschlussbogen ½", mit Wandhalter,                                                                                                               1800 mm, Ü ½" x cône ½"
     Garniture de douche
                            mit Kunststoff-Brauseschlauch 1500 mm,                                                                                                                 1800 mm, Ü ½" x stożek ½"
     Zestaw natryskowy      eigensicher gegen Rückfließen
                            with metallic hand shower, with integrated wall                                                                                                  new        Matt Black       099 9419 S           36,10 Euro
                           e­ lbow ½", with wall bracket, with plastic shower
                            hose 1500 mm, intrinsically safe against backflow
                           avec douchette à main métallique, avec sortie
                           ­mural ½" ­intégrée, avec support mural, avec flexible de
                            douche plastique 1500 mm, sécurité contre le reflux
                           ze słuchawką, lementem do podłączenia
                                                                                       Brause Wandhalter                    100 1665 S                                             100 1667 S
                                                                                                                            ohne integrierten Brauseanschlussbogen                 mit integriertem Brauseanschlussbogen
                           ­natrysku ½", z uchwytem ściennym,                          Shower wallbracket
                                                                                                                            without integrated wall bracket                        with integrated wall elbow
                            z wąż ­natryskowy – Plastikowy 1500 mm,                    Support mural                        sans sortie murale et coude intégré                    avec sortie murale et coude intégré
                            zabezpieczenie przepływów zwrotnych
                                                                                       Uchwyt ścienny słuchawki             bez zintegrowanego przyłącza kątowego                  ze zintegrowanym przyłączem kątowym

                                Matt Black          100 1670 S      205,00 Euro
                                                                                                                      new       Matt Black      100 1665 S      76,00 Euro   new        Matt Black       100 1667 S          126,00 Euro

24                                                                                                                                                                                                                                             25
MATT BLACK | SERIES 250
     WASCHTISCH-ZWEIGRIFFARMATUR                                                                                                                                             3-LOCH WASCHTISCH-WAND-ARMATUR
     mit schwenkbarem Auslauf, mit 90° Keramikventilen, mit Flexschläuchen 3/8"                                                                                              mit 90° Keramikventilen, einbaufertig, inkl. Messing-Unterputzkörper ½"
     TWO HANDLE BASIN MIXER                                                                                                                                                  3-HOLE WALL MOUNTED BASIN MIXER
     with swivel spout, with 90° ceramic headparts, with flexible hoses 3/8"                                                                                                 with 90° ceramic headparts, pre-finished, with concealed body ½"
     ROBINETTERIE À DEUX POIGNÉES DE LAVABO                                                                                                                                  MÉLANGEUR DE LAVABO 3-TROU MURAL
     bec pivotant, avec têtes céramique 90°, avec flexibles 3/8"                                                                                                             têtes céramique 90°, prêt pour l´installation, avec corps d'encastrement ½"
     ARMATURA UMYWALKOWA Z DWOMA UCHWYTAMI                                                                                                                                   3-OTWOROWA ARMATURA ŚCIENNA
     z obracaną wylewką, z 90° zaworami ceramicznymi, z wężami elastycznymi do podłączenia baterii 3/8"                                                                      z 90° zaworami ceramicznymi, gotowy do montażu, z elementem podtynkowym podłączenia ½"

                                                           250 1500 S                                                                                                                                                              250 1902 S
                                                           mit Ablaufgarnitur 1 ¼", Ausladung 155 mm                                                                                                                               Ausladung 195 mm
                                                           with pop up waste 1 ¼", projection 155 mm                                                                                                                               projection 195 mm
                                                           avec garniture d'écoulement 1 ¼", projection 155 mm                                                                                                                     projection 195 mm
                                                           z korkiem automatycznym 1 ¼", wylewka 155 mm                                                                                                                            wylewka 195 mm

                                                                   Matt Black   250 1500 S      310,00 Euro                                                                                                                 new         Matt Black       250 1902 S       450,00 Euro
                                                                                                                                                                                                  6 l / min
                                                                                                                                                                                                  3 bar
                                 6 l / min
                                 3 bar

     3-LOCH WASCHTISCH-ARMATUR
     mit 90° Keramikventilen, mit Verbindungsschläuchen zu den Seitenventilen,
     Anschlussschläuche zu den Seitenventilen 099 9232 separat bestellen
     3-HOLE BASIN MIXER                                                                                                                                                      FREISTEHENDE WANNEN-ARMATUR
     with 90° ceramic headparts, with connecting hoses to the angle valves, flex hoses between                                                                               mit 90° Keramikventilen, eigensicher gegen Rückfließen
     deckvalve and angle valve 099 9232 not included, order separately
                                                                                                                                                                             FREE STANDING BATH MIXER
     MÉLANGEUR DE LAVABO 3-TROU                                                                                                                                              with 90° ceramic headparts, intrinsically safe against backflow
     têtes céramique 90°, avec flexibles pour raccordement bec/robinet d'arrêt, flexibles pour raccordement
     robinet d'arrêt au robinet équerre 099 9232 à commander apart
                                                                                                                                                                             BATTERIE BAIN SUR PIEDS
                                                                                                                                                                             avec têtes céramique 90°, sécurité contre le reflux
     3-OTWOROWA ARMATURA UMYWALKOWA                                                                                                                                          ARMATURA DO WANNY WOLNOSTOJĄCEJ
     z 90° zaworami ceramicznymi, z wężami łączeniowymi zawory,
                                                                                                                                                                             z 90° zaworami ceramicznymi, zabezpieczenie przepływów zwrotnych
     węże podłączeniowe do zaworów kątowych 099 9232 zamawiać oddzielnie

                                                                                                                         099 9232
                                                           250 2000 S                                                    Anschlussschläuche zu den Seitenventilen
                                                           mit Ablaufgarnitur 1 ¼", Ausladung 150 mm                     flex hoses between deckvalve and angle valve
                                                           with pop up waste 1 ¼", projection 150 mm                     flexibles pour raccordement robinet d'arrêt au                                                            250 1162 S
                                                           avec garniture d'écoulement 1 ¼", projection 150 mm           robinet équerre                                                                                           mit Umsteller und Handbrause,
                                                           z korkiem automatycznym 1 ¼", wylewka 150 mm                  węże podłączeniowe do zaworów kątowych                                                                    Ausladung 153 mm
                                                                                                                                                                                                                                   with diverter and hand shower,
                                                    new         Matt Black      250 2000 S      475,00 Euro             099 9232                                69,00 Euro                                                         projection 153 mm                                    Einbaukörper separat bestellen
                                                                                                                                                                                                                                   avec inverseur et ­douchette à main,                 Concealed set order separately
                                                                                                                                                                                                                                   projection 153 mm                                    Corps d'encastrement à commander séparément
                         6 l / min                                                                                                                                                                                                                                                      Element podtynkowy z podłączeniami zamawiać
                                                                                                                                                                                                                                   z przełącznikiem na słuchawkęi słuchawką,
                         3 bar                                                                                                                                                                                                                                                          oddzielnie
                                                                                                                                                                                                                                   wylewka 153 mm
                                                                                                                                                                                 15,6 l / min
                                                                                                                                                                                 13,2 l / min                               new         Matt Black       250 1162 S       990,00 Euro   010 1160                         195,00 Euro
                                                                                                                                                                                  3 bar

                                                  100 1640 S                     100 1696 S                      100 1693 S
                                                  49,00 Euro                     175,00 Euro                     82,50 Euro
26                                                                                                                                                                                                                                                                                                                                         27
MATT BLACK | SERIES 250
     AUFPUTZ-EINHEBELMISCHER ½"                                                                              UNTERPUTZ-THERMOSTAT
     mit Keramikkartusche, eigensicher gegen Rückfließen                                                     Fertigmontageset mit 2-Wege-Umsteller
     EXPOSED SINGLE LEVER MIXER ½"                                                                           CONCEALED THERMOSTATIC MIXER
     with ceramic cartridge, intrinsically safe against backflow                                             finish set with 2 way diverter
     MITIGEUR MONO COMMANDE ½" MURAL                                                                         MÉLANGEUR THERMOSTATIQUE
     avec cartouche céramique, sécurité contre le reflux                                                     jeu de finition avec inverseur a 2 voies intégrées
     ARMATURA JEDNOUCHWYTOWA NATYNKOWA ½"                                                                    TERMOSTAT PODTYNKOWY
     z głowicą ceramiczną, z przełącznikiem na słuchawkę, zabezpieczenie przepływów zwrotnych                element zewnętrzny z dwudrożnym przełącznikiem
                                                                                                                                                                                                                                                             STEIN
                                                                                                                                                                                                                                                             TEC
                                                                                                                                                                                                                                                                  
                                                                                                                                                                                                                                                             SAFETY

                                                           100 1100 S
                                                           für Wanne
                                                           mit Umsteller, Ausladung 185 mm
                                                           for bathtub
                                                                                                                                                                   250 4133 S                                               Einbaukörper separat bestellen
                                                                                                                                                                                                                            Concealed set order separately
                                                                                                                                                                   mit Abdeckplatte ø 190 mm
                                                           with diverter, projection 185 mm                                                                                                                                 Corps d'encastrement à commander séparément
                                                                                                                                                                   with cover plate ø 190 mm
                                                           pour le bain                                                                                                                                                     Element podtynkowy z podłączeniami zamawiać
                                                                                                                                                                   avec plaque de protection ø 190 mm
                                                           avec inverseur, projection 185 mm                                                                                                                                oddzielnie
                                                                                                                                                                   z rozetą ø 190 mm
                                                           do wanny
                      15 l / min 16 l / min                z przełącznikiem na słuchawkę, wylewka 185 mm                                                     new       Matt Black       250 4133 S      462,00 Euro              Matt Black     010 4140 S        560,00 Euro
                              3 bar

                                                                   Matt Black   100 1100 S     419,00 Euro                       12,5 l / min
                                                                                                                                  3 bar
                                                                                                                                                                                                     099 4126 S | Verlängerungsset 25 mm | Extension set 25 mm | 219,00 Euro

                                                           100 1220 S
                                                           für Dusche
                                                           for shower
                                                           pour le douche
                                                           do prysznica
                                                                                                             REGENBRAUSE
                                                                                                             mit Easy Clean, in Verbindung mit Brausearm 100 7910 S oder 100 1571 S
                        19,5 l / min                               Matt Black   100 1220 S     349,00 Euro
                          3 bar                                                                              RAIN SHOWER HEAD
                                                                                                             with Easy Clean, to use with shower arm 100 7910 S or 100 1571 S
                                                                                                             DOUCHE DE TÊTE
                                                                                                             avec système anticalcaire "Easy Clean", à utiliser avec bras 100 7910 S ou 100 1571 S
                                                                                                             DESZCZOWNICA
                                                                                                             z systemem Easy Clean, tylko z ramieniem 100 7910 S lub 100 1571 S

                                                                                                                                                                   100 1687 S
                                                                                                                                                                   ø 200 mm x 8 mm

                                                                                                                                                             new       Matt Black       100 1687 S      229,00 Euro

                                                                                                                                                                   100 1686 S                                               100 1688 S
                                                                                                                 20 l / min                                        ø 250 mm x 8 mm                                          ø 300 mm x 8 mm
                                                                                                                  3 bar

                                                                                                                                                                       Matt Black       100 1686 S      320,00 Euro              Matt Black     100 1688 S        479,00 Euro

                                                                                                                                                                          100 7910 S                     100 1571 S
                                                                                                                                                                          190,00 Euro                    72,00 Euro

28                                                                                                                                                                                                                                                                                  29
MATT BLACK | SERIES 250
                           100 1601 S                                                                                                                                              099 9654 S
     Brausegarnitur        mit Brausestange 900 mm, mit Metall-Stabhand-                                                                                                           3-fach verstellbar mit pushtronic, mit Easy Clean
     Shower set            brause, mit Kunststoff-Brauseschlauch 1800 mm
                                                                                       Handbrause                                                                                  3 functions with pushtronic, with Easy Clean
     Garniture de douche   with slide rail 900 mm, with metallic hand shower,                                                                                                      réglable en 3 positions avec pushtronic,
                           with plastic shower hose 1800 mm                            Hand shower                                                                                 avec anticalcaire "Easy Clean"
     Zestaw natryskowy                                                                 Douchette à main en ABS
                           avec barre de douche 900 mm,                                                                                                                            3 funkcyjna, z pushtronic, z Easy Clean
                           avec douchette à main métallique,                           Słuchawka prysznicowa
                           avec flexible de douche plastique 1800 mm
                           z drążkiem do słuchawki 900 mm,
                                                                                                                                                                             new        Matt Black       099 9654 S           65,00 Euro
                           ze słuchawką, z wąż natryskowy –
                           Plastikowy 1800 mm

                                Matt Black         100 1601 S       299,00 Euro

                                                                                                                                                                                   100 1660 S
                                                                                       Brauseanschlussbogen ½"                                                                     eigensicher gegen Rückfließen
                                                                                                                                                                                   intrinsically safe against backflow
                                                                                       Wall mounted elbow outlet ½"                                                                sécurité contre le reflux
                                                                                                                                                                                   zabezpieczenie przepływów zwrotnych
                                                                                       Sortie mural laiton ½"
                                                                                       Przyłącze kątowe ½"
                                                                                                                                                                             new        Matt Black       100 1660 S           65,00 Euro
     Handbrausegarnitur    100 1670 S
     Hand shower set       mit Metall-Stabhandbrause, mit integriertem
     Garniture de douche   ­Brauseanschlussbogen ½", mit Wandhalter,
                            mit Kunststoff-Brauseschlauch 1500 mm,
     Zestaw natryskowy      eigensicher gegen Rückfließen
                            with metallic hand shower, with integrated wall
                           e­ lbow ½", with wall bracket, with plastic shower
                            hose 1500 mm, intrinsically safe against backflow                                                                                                      099 9417 S
                           avec douchette à main métallique, avec sortie                                                                                                           1500 mm, Ü ½" x Konus ½"
                           ­mural ½" ­intégrée, avec support mural, avec flexible de                                                                                               1500 mm, Ü ½" x cone seat ½"
                            douche plastique 1500 mm, sécurité contre le reflux                                                                                                    1500 mm, Ü ½" x cône ½"
                                                                                                                                                                                   1500 mm, Ü ½" x stożek ½"
                           ze słuchawką, lementem do podłączenia natrysku
                           ½", z uchwytem ściennym, z wąż natryskowy –
                           Plastikowy 1500 mm, zabezpieczenie przepływów
                                                                                       Kunststoff-Brauseschlauch                                                             new        Matt Black       099 9417 S           33,10 Euro
                           zwrotnych                                                   Plastic shower hose
                                                                                       Flexible de douche plastique                                                                099 9419 S
                                Matt Black         100 1670 S       205,00 Euro        Wąż natryskowy – Plastikowy                                                                 1800 mm, Ü ½" x Konus ½"
                                                                                                                                                                                   1800 mm, Ü ½" x cone seat ½"
                                                                                                                                                                                   1800 mm, Ü ½" x cône ½"
                                                                                                                                                                                   1800 mm, Ü ½" x stożek ½"

                                                                                                                                                                             new        Matt Black       099 9419 S           36,10 Euro

     Handbrausegarnitur    100 1650 S
                           mit Metall-Stabhandbrause, mit Wandhalter,
     Hand shower set
                           mit Kunststoff-Brauseschlauch 1500 mm
     Garniture de douche   with metallic hand shower, with wall bracket,
     Zestaw natryskowy     with plastic shower hose 1500 mm                            Brause Wandhalter                    100 1665 S                                             100 1667 S
                           avec douchette à main métallique, avec support                                                   ohne integrierten Brauseanschlussbogen                 mit integriertem Brauseanschlussbogen
                                                                                       Shower wallbracket
                           mural, avec flexible de douche plastique 1500 mm                                                 without integrated wall bracket                        with integrated wall elbow
                           ze słuchawką, z uchwytem ściennym,
                                                                                       Support mural                        sans sortie murale et coude intégré                    avec sortie murale et coude intégré
                           z wąż natryskowy – Plastikowy 1500 mm                       Uchwyt ścienny słuchawki             bez zintegrowanego przyłącza kątowego                  ze zintegrowanym przyłączem kątowym

                                Matt Black         100 1650 S       149,00 Euro                                       new       Matt Black      100 1665 S      76,00 Euro   new        Matt Black       100 1667 S          126,00 Euro

30                                                                                                                                                                                                                                             31
MATT BLACK | SERIES 160
     WASCHTISCH-EINHEBELMISCHER                                                                                                                                            FREISTEHENDE WANNEN-ARMATUR
     mit Keramikkartusche, mit Flexschläuchen 3/8"
                                                                                                                                                                           FREE STANDING BATH MIXER
     SINGLE LEVER BASIN MIXER
     with ceramic cartridge, with flexible hoses 3/8"                                                                                                                      BATTERIE BAIN SUR PIEDS
     MITIGEUR MONO COMMANDE DE LAVABO                                                                                                                                      ARMATURA DO WANNY WOLNOSTOJĄCEJ
     avec cartouche céramique, avec flexibles 3/8"
     ARMATURA UMYWALKOWA JEDNOUCHWYTOWA
     z głowicą ceramiczną, z wężami elastycznymi do podłączenia baterii 3/8"

                                                                                                                                                                                                                            135 1162 S
                                                                                                                                                                                                                            mit schwenkbarem Schwallauslauf, mit Keramikkartusche,                                   STEIN

                                                              160 1000 S                                                                                                                                                    eigensicher gegen Rückfließen, mit Umsteller und Hand-
                                                                                                                                                                                                                            brause, Ausladung 254 mm
                                                                                                                                                                                                                                                                                                                     TEC
                                                                                                                                                                                                                                                                                                                     SAFETY
                                                              mit Ablaufgarnitur 1 ¼", Ausladung 120 mm
                                                              with pop up waste 1 ¼", projection 120 mm                                                                                                                     with cascade spout, swivel spout, with ceramic cartridge,
                                                              avec garniture d'écoulement 1 ¼", projection 120 mm                                                                                                           intrinsically safe against backflow, with diverter and hand
                                                              z korkiem automatycznym 1 ¼", wylewka 120 mm                                                                                                                  shower, projection 254 mm
                                                                                                                                                                                                                            avec bec cascade pivotant, avec cartouche céramique,
                                                                   Matt Black     160 1000 S      455,00 Euro                                                                                                               sécurité contre le reflux, avec inverseur et douchette à      Einbaukörper separat bestellen
                                                                                                                                                                                                                            main, projection 254 mm                                       Concealed set order separately
                                                                                                                                                                                                                            z obrotową wylewką kaskadową, z głowicą ceramiczną,           Corps d'encastrement à commander séparément
                                                              160 1010 S                                                                                                                                                    zabezpieczenie przepływów zwrotnych,                          Element podtynkowy z podłączeniami zamawiać
                                                              ohne Ablaufgarnitur, Ausladung 120 mm                                                                                                                         z przełącznikiem na słuchawkę, wylewka 254 mm                 oddzielnie
                                                              without pop up waste, projection 120 mm
                                                              sans garniture d'écoulement, projection 120 mm                                                                                                          new        Matt Black      135 1162 S      2.300,00 Euro            020 1162                            310,00 Euro
                                                              bez korka automatycznego, wylewka 120 mm
                                12 l / min
                                 3 bar                             Matt Black     160 1010 S      445,00 Euro
                                                                                                                                                                                              16 l / min 12 l / min
                                                                                                                                                                                                      3 bar

     WASCHTISCH-WAND-EINHEBELMISCHER                                                                                                                                       WANNE/BRAUSE-EINHEBELMISCHER
     Fertigmontageset mit Keramikkartusche                                                                                                                                 Fertigmontageset mit Umsteller
     WALL MOUNTED SINGLE LEVER BASIN MIXER                                                                                                                                 SINGLE LEVER BATH/SHOWER MIXER
     Finish set with ceramic cartridge                                                                                                                                     finish set with diverter

     MITIGEUR MONO COMMANDE DE LAVABO MURAL                                                                                                                                MITIGEUR MONO COMMANDE BAIN/DOUCHE
     Jeu de finition avec cartouche céramique                                                                                                                              jeu de finition avec inverseur

     ELEMENT ZEWNĘTRZNY                                                                                                                                                    JEDNOUCHWYTOWA BATERIA WANNOWA/NATRYSKOWA
     Element zewnętrzny z głowicą ceramiczną                                                                                                                               element zewnętrzny z przełącznikiem
                                                                                                                                                                                                                                                                                                                      STEIN

                                                                                                                                                        STEIN
                                                                                                                                                                                                                                                                                                                      TEC
                                                                                                                                                                                                                                                                                                                           
                                                                                                                                                                                                                                                                                                                      SAFETY

                                                                                                                                                        TEC
                                                                                                                                                             
                                                                                                                                                        SAFETY

                                                              160 1814 S                                                Einbaukörper separat bestellen
                                                              Ausladung 205 mm                                          Concealed set order separately                                                                      160 2103 S                                                    Einbaukörper separat bestellen
                                                                                                                                                                                                                                                                                          Concealed set order separately
                                                              projection 205 mm                                         Corps d'encastrement à commander séparément                                                         mit Abdeckplatte 165 mm x 165 mm
                                                              projection 205 mm                                         Element podtynkowy z podłączeniami zamawiać                                                         with cover plate 165 mm x 165 mm                              Corps d'encastrement à commander séparément
                                                              wylewka 205 mm                                            oddzielnie                                                                                          avec plaque de protection 165 mm x 165 mm                     Element podtynkowy z podłączeniami zamawiać
                   11 l / min
                    3 bar                                                                                                                                                                                                   z rozetą 165 mm x 165 mm                                      oddzielnie

                                                                   Matt Black     160 1814 S      430,00 Euro                Matt Black    010 1800 S        279,00 Euro
                                                                                                                                                                                                                                 Matt Black       160 2103 S       415,00 Euro                Matt Black      010 2110 S      239,00 Euro

                                                                                                 099 1825 S | Verlängerungsset 25 mm | Extension set 25 mm | 93,00 Euro
                                                                                                                                                                                         18,6 l / min 13,8 l / min                                               099 2105 S | Verlängerungsset 25 mm | Extension set 25 mm |130,00 Euro
                                                                                                                                                                                                   3 bar

                                                     100 1640 S                    100 1696 S                   100 1693 S
                                                     49,00 Euro                    175,00 Euro                  82,50 Euro
32                                                                                                                                                                                                                                                                                                                                              33
MATT BLACK | SERIES 160
     UNTERPUTZ-THERMOSTAT
     Fertigmontageset mit 2-Wege-Umsteller
     CONCEALED THERMOSTATIC MIXER
     finish set with 2 way diverter
     MÉLANGEUR THERMOSTATIQUE
     jeu de finition avec inverseur a 2 voies intégrées
     TERMOSTAT PODTYNKOWY
     element zewnętrzny z dwudrożnym przełącznikiem
                                                                                                                                                                           Brauseset                   160 2721 S
                                                                                                                                                                                                       komplett mit Thermostatarmatur, mit Regenbrause
                                                                                                                                                                           Overhead shower set         (Easy-clean) und Handbrause, mit höhenverstell-
                                                                                                                                                      STEIN                Colonne de douche           barem Gleiter für Handbrause, mit höhenverstell-
                                                                                                                                                      TEC
                                                                                                                                                      SAFETY              Zestaw natryskowy
                                                                                                                                                                                                       barem Regenbrausearm (bei Installation)
                                                                                                                                                                                                       complete with thermostatic shower mixer, with rain
                                                                                                                                                                                                       shower (Easy Clean) and handshower, with sliding
                                                                                                                                                                                                       bracket for handshower, with height adjustable
                                                                                                                                                                                                       shower arm (during installation)
                                                                                                                                                                                                       avec mélangeur thermostatique, avec douche
                                                          160 4133 S                                                 Einbaukörper separat bestellen                                                    de tête (système anticalcaire "Easy Clean")
                                                                                                                                                                                                       et d­ ouchette à main, hauteur réglable
                                                          mit Abdeckplatte 220 mm x 150 mm                           Concealed set order separately
                                                          with cover plate 220 mm x 150 mm                           Corps d'encastrement à commander séparément                                       (pendant installation)
                                                          avec plaque de protection 220 mm x 150 mm                  Element podtynkowy z podłączeniami zamawiać                                       kompletny z armaturą termostatyczną,
                                                          z rozetą 220 mm x 150 mm                                   oddzielnie                                                                        z deszczownicą (Easy Clean) i ­słuchawką, z regu-
                                                                                                                                                                                                       lowanym uchwytem, z obracanym i regulowanym
                                                                                                                                                                                                       ramieniem deszczownicy (podczas montażu)
                                                               Matt Black       160 4133 S          600,00 Euro           Matt Black     010 4140 S          560,00 Euro

                                                                                                                                                                                                 new        Matt Black     160 2721 S      1.950,00 Euro
                          12,5 l / min
                           3 bar
                                                                                              099 4126 S | Verlängerungsset 25 mm | Extension set 25 mm | 219,00 Euro

     REGENBRAUSE
     RAIN SHOWER HEAD
     DOUCHE DE TÊTE
     DESZCZOWNICA

                                                                                                                                                                           Brausegarnitur              135 1600 S
                                                                                                                                                                                                       mit Kunststoff-Brauseschlauch 1800 mm,
                                                                                                                                                                           Shower set
                                                                                                                                                                                                       mit Brausestange 750 mm,
                                                                                                                                                                           Garniture de douche         mit Metall-Stabhandbrause
                                                                                                                                                                           Zestaw natryskowy           with plastic shower hose 1800 mm,
                                                                                                                                                                                                       with slide rail 750 mm,
                                                                                                                                                                                                       with metallic hand shower
                                                          120 1686 S                                                                                                                                   avec flexible de douche plastique 1800 mm,
                                                          300 mm x 300 mm x 8 mm                                                                                                                       avec barre de douche 750 mm,
                                                          nur in Verbindung mit Brausearm 120 7910 S,                                                                                                  avec douchette à main métallique
                                                          mit Easy Clean
                                                                                                                                                                                                       z wąż natryskowy – Plastikowy 1800 mm,
                                                          only compatible with shower arm 120 7910 S,                                                                                                  z drążkiem do słuchawki 750 mm,
                                                          with Easy Clean                                                                                                                              ze słuchawką
                                                          à utiliser avec bras mural 120 7910 S,
                                                          avec système anticalcaire ­"Easy Clean"
                                                                                                                                                                                                            Matt Black      135 1600 S       385,00 Euro
                                                          tylko z ramieniem 120 7910 S,
                                                          z systemem Easy Clean

                                                               Matt Black      120 1686 S           700,00 Euro                                120 7910 S
                                                                                                                                               259,00 Euro
                         18 l / min
                          3 bar

34                                                                                                                                                                                                                                                              35
MATT BLACK | SERIE 160
     Handbrausegarnitur                   135 1670 S
                                          mit integriertem Brauseanschlussbogen ½", mit
     Hand shower set                      Halter, mit Kunststoff-Brauseschlauch 1500 mm,
     Garniture de douche                  eigensicher gegen Rückfließen, mit Metall-Stab-
                                          handbrause
     Zestaw natryskowy
                                          with integrated wall elbow ½", with bracket, with
                                          plastic shower hose 1500 mm, intrinsically safe
                                          against backflow, with metallic hand shower
                                          avec support mural et sortie intégrée, avec flexible
                                          de douche plastique 1500 mm, sécurité contre le
                                          reflux, avec douchette à main métallique
                                          elementem do podłączenia natrysku ½", z wąż
                                          natryskowy – Plastikowy 1500 mm, zabezpieczenie
                                          przepływów zwrotnych, ze słuchawką

                                               Matt Black       135 1670 S       280,00 Euro

                                          135 1660 S
     Brauseanschlussbogen ½"              eigensicher gegen Rückfließen
                                          intrinsically safe against backflow
     Wall mounted elbow outlet ½"         sécurité contre le reflux
     Sortie mural laiton ½"               zabezpieczenie przepływów zwrotnych
     Przyłącze kątowe ½"
                                    new        Matt Black      135 1660 S        122,00 Euro

                                          099 9417 S
                                          1500 mm, Ü ½" x Konus ½"
                                          1500 mm, Ü ½" x cone seat ½"
                                          1500 mm, Ü ½" x cône ½"
                                          1500 mm, Ü ½" x stożek ½"

     Kunststoff-Brauseschlauch      new        Matt Black       099 9417 S        33,10 Euro
     Plastic shower hose
     Flexible de douche plastique         099 9419 S
     Wąż natryskowy – Plastikowy          1800 mm, Ü ½" x Konus ½"
                                          1800 mm, Ü ½" x cone seat ½"
                                          1800 mm, Ü ½" x cône ½"
                                          1800 mm, Ü ½" x stożek ½"

                                    new        Matt Black       099 9419 S        36,10 Euro

36                                                                                                  37
MATT BLACK | SERIES 135
     WASCHTISCH-EINHEBELMISCHER                                                                                              WASCHTISCH-WAND-EINHEBELMISCHER
     mit Keramikkartusche, mit Flexschläuchen 3/8"                                                                           Fertigmontageset mit Keramikkartusche
     SINGLE LEVER BASIN MIXER                                                                                                WALL MOUNTED SINGLE LEVER BASIN MIXER
     with ceramic cartridge, with flexible hoses 3/8"                                                                        Finish set with ceramic cartridge

     MITIGEUR MONO COMMANDE DE LAVABO                                                                                        MITIGEUR MONO COMMANDE DE LAVABO MURAL
     avec cartouche céramique, avec flexibles 3/8"                                                                           Jeu de finition avec cartouche céramique

     ARMATURA UMYWALKOWA JEDNOUCHWYTOWA                                                                                      ARMATURA UMYWALKOWA JEDNOUCHWYTOWA ŚCIENNA
     z głowicą ceramiczną, z wężami elastycznymi do podłączenia baterii 3/8"                                                 Element zewnętrzny z głowicą ceramiczną

                                                                                                                                                                                                                                                                            STEIN
                                                                                                                                                                                                                                                                            TEC
                                                                                                                                                                                                                                                                                 
                                                                                                                                                                                                                                                                            SAFETY

                                                              135 1001 S
                                                              mit Schwallauslauf,                                                                                             135 1814 S                                                    Einbaukörper separat bestellen
                                                              mit Ablaufgarnitur 1 ¼", Ausladung 120 mm                                                                       Ausladung 200 mm                                              Concealed set order separately
                                                              with cascade spout,                                                                                             projection 200 mm                                             Corps d'encastrement à commander séparément
                                                              with pop up waste 1 ¼", projection 120 mm                                                                       projection 200 mm                                             Element podtynkowy z podłączeniami zamawiać
                                                              avec bec cascade,                                                                                               wylewka 200 mm                                                oddzielnie
                                                              avec garniture d'écoulement 1 ¼", projection 120 mm
                                                              z wylewką kaskadową,                                                                                      new        Matt Black       135 1814 S       450,00 Euro                Matt Black     010 1800 S        279,00 Euro
                                                                                                                                          11 l / min
                                                              z korkiem automatycznym 1 ¼", wylewka 120 mm                                 3 bar

                            12 l / min                                                                                                                                                                              099 1825 S | Verlängerungsset 25 mm | Extension set 25 mm | 93,00 Euro
                             3 bar                      new        Matt Black      135 1001 S     450,00 Euro

                                                                                                                             FREISTEHENDE WANNEN-ARMATUR
                                                              135 1501 S                                                     FREE STANDING BATH MIXER
                                                              mit schwenkbarem Schwallauslauf,                               BATTERIE BAIN SUR PIEDS
                                                              mit Ablaufgarnitur 1 ¼", Ausladung 150 mm
                                                              with cascade spout, swivel spout,                              ARMATURA DO WANNY WOLNOSTOJĄCEJ
                                                              with pop up waste 1 ¼", projection 150 mm
                                                              avec bec cascade, bec pivotant,
                                                              avec garniture d'écoulement 1 ¼", projection 150 mm
                                                              z obracaną wylewką kaskadową,
                                                              z korkiem automatycznym 1 ¼", wylewka 150 mm

                                                                                                                                                                              135 1162 S
                         12,6 l / min                   new        Matt Black      135 1501 S     580,00 Euro                                                                 mit schwenkbarem Schwallauslauf, mit Keramikkartusche,                                   STEIN
                          3 bar                                                                                                                                               eigensicher gegen Rückfließen, mit Umsteller und Hand-
                                                                                                                                                                              brause, Ausladung 254 mm
                                                                                                                                                                                                                                                                       TEC
                                                                                                                                                                                                                                                                       SAFETY  
                                                                                                                                                                              with cascade spout, swivel spout, with ceramic cartridge,
                                                                                                                                                                              intrinsically safe against backflow, with diverter and hand
                                                                                                                                                                              shower, projection 254 mm
                                                                                                                                                                              avec bec cascade, bec pivotant, avec cartouche cérami-
                                                                                                                                                                              que, sécurité contre le reflux, avec inverseur et douchette Einbaukörper separat bestellen
                                                                                                                                                                              à main, projection 254 mm                                   Concealed set order separately
                                                                                                                                                                              z obrotową wylewką kaskadową, z głowicą ceramiczną,         Corps d'encastrement à commander séparément
                                                                                                                                                                              zabezpieczenie przepływów zwrotnych,                        Element podtynkowy z podłączeniami zamawiać
                                                                                                                                                                              z przełącznikiem na słuchawkę, wylewka 254 mm               oddzielnie

                                                                                                                                                                        new        Matt Black      135 1162 S      2.300,00 Euro            020 1162                            310,00 Euro

                                                                                                                                             16 l / min 12 l / min
                                                                                                                                                     3 bar

                                                     100 1640 S                    100 1696 S                   100 1693 S
                                                     49,00 Euro                    175,00 Euro                  82,50 Euro
38                                                                                                                                                                                                                                                                                                 39
MATT BLACK | SERIES 135
     WANNE/BRAUSE-EINHEBELMISCHER                                                                                                                                                                              120 1686 S
     Fertigmontageset mit Umsteller                                                                                                                                   Regenbrause                              300 mm x 300 mm x 8 mm
                                                                                                                                                                                                               nur in Verbindung mit Brausearm 120 7910 S,
                                                                                                                                                                      Rain shower head
     SINGLE LEVER BATH/SHOWER MIXER                                                                                                                                                                            mit Easy Clean
     finish set with diverter                                                                                                                                         Douche de tête                           only compatible with shower arm 120 7910 S,
                                                                                                                                                                      Deszczownica                             with Easy Clean
     MITIGEUR MONO COMMANDE BAIN/DOUCHE                                                                                                                                                                        à utiliser avec bras mural 120 7910 S,
     jeu de finition avec inverseur
                                                                                                                                                                                                               avec système anticalcaire ­"Easy Clean"
     JEDNOUCHWYTOWA BATERIA WANNOWA/NATRYSKOWA                                                                                                                                                                 tylko z ramieniem 120 7910 S,
     element zewnętrzny z przełącznikiem                                                                                                                                                                       z systemem Easy Clean

                                                                                                                                                  STEIN
                                                                                                                                                  TEC
                                                                                                                                                       
                                                                                                                                                  SAFETY
                                                                                                                                                                                                                    Matt Black       120 1686 S          700,00 Euro

                                                                                                                                                                                            18 l / min
                                                                                                                                                                                             3 bar                                 120 7910 S
                                                                                                                                                                                                                                   259,00 Euro

                                                          160 2103 S                                             Einbaukörper separat bestellen
                                                                                                                 Concealed set order separately
                                                          mit Abdeckplatte 165 mm x 165 mm
                                                          with cover plate 165 mm x 165 mm                       Corps d'encastrement à commander séparément
                                                          avec plaque de protection 165 mm x 165 mm              Element podtynkowy z podłączeniami zamawiać
                                                          z rozetą 165 mm x 165 mm                               oddzielnie

                                                              Matt Black     160 2103 S     415,00 Euro               Matt Black       010 2110 S       239,00 Euro

                   18,6 l / min 13,8 l / min                                                                                                                          Brauseset                                160 2721 S
                             3 bar                                                                                                                                                                             komplett mit Thermostatarmatur, mit Regenbrause
                                                                                           099 2105 S | Verlängerungsset 25 mm | Extension set 25 mm |130,00 Euro
                                                                                                                                                                      Overhead shower set
                                                                                                                                                                                                               (Easy-clean) und Handbrause, mit höhenverstell-
                                                                                                                                                                      Colonne de douche                        barem Gleiter für Handbrause, mit höhenverstell-
                                                                                                                                                                      Zestaw natryskowy                        barem Regenbrausearm (bei Installation)
                                                                                                                                                                                                               complete with thermostatic shower mixer, with rain
                                                                                                                                                                                                               shower (Easy Clean) and handshower, with sliding
                                                                                                                                                                                                               bracket for handshower, with height adjustable
                                                                                                                                                                                                               shower arm (during installation)

     UNTERPUTZ-THERMOSTAT                                                                                                                                                                                      avec mélangeur thermostatique, avec douche
                                                                                                                                                                                                               de tête (système anticalcaire "Easy Clean")
     Fertigmontageset mit 2-Wege-Umsteller                                                                                                                                                                     et d­ ouchette à main, hauteur réglable
                                                                                                                                                                                                               (pendant installation)
     CONCEALED THERMOSTATIC MIXER                                                                                                                                                                              kompletny z armaturą termostatyczną, z
     finish set with 2 way diverter                                                                                                                                                                            deszczownicą (Easy Clean) i ­słuchawką, z regulo-
                                                                                                                                                                                                               wanym uchwytem, z obracanym i regulowanym
     MÉLANGEUR THERMOSTATIQUE                                                                                                                                                                                  ramieniem deszczownicy (podczas montażu)
     jeu de finition avec inverseur a 2 voies intégrées
     TERMOSTAT PODTYNKOWY                                                                                                                                                                                new        Matt Black      160 2721 S      1.950,00 Euro
     element zewnętrzny z dwudrożnym przełącznikiem

                                                                                                                                                  STEIN
                                                                                                                                                  TEC
                                                                                                                                                       
                                                                                                                                                  SAFETY

                                                                                                                                                                      Handbrausegarnitur                       135 1670 S
                                                                                                                                                                                                               mit integriertem Brauseanschlussbogen ½", mit
                                                                                                                                                                      Hand shower set
                                                                                                                                                                                                               Halter, mit Kunststoff-Brauseschlauch 1500 mm,
                                                          160 4133 S                                             Einbaukörper separat bestellen                       Garniture de douche                      eigensicher gegen Rückfließen, mit Metall-Stab-
                                                          mit Abdeckplatte 220 mm x 150 mm                       Concealed set order separately                       Zestaw natryskowy                        handbrause
                                                          with cover plate 220 mm x 150 mm                       Corps d'encastrement à commander séparément                                                   with integrated wall elbow ½", with bracket, with
                                                          avec plaque de protection 220 mm x 150 mm              Element podtynkowy z podłączeniami zamawiać                                                   plastic shower hose 1500 mm, intrinsically safe
                                                          z rozetą 220 mm x 150 mm                               oddzielnie                                                                                    against backflow, with metallic hand shower
                                                                                                                                                                                                               avec support mural et sortie intégrée, avec flexible
                                                              Matt Black     160 4133 S     600,00 Euro               Matt Black     010 4140 S         560,00 Euro                                            de douche plastique 1500 mm, sécurité contre le
                                                                                                                                                                                                               reflux, avec douchette à main métallique

                           12,5 l / min                                                                                                                                                                        elementem do podłączenia natrysku ½", z wąż
                            3 bar                                                                                                                                                                              natryskowy – Plastikowy 1500 mm, zabezpieczenie
                                                                                          099 4126 S | Verlängerungsset 25 mm | Extension set 25 mm | 219,00 Euro                                              przepływów zwrotnych, ze słuchawką

                                                                                                                                                                                                                    Matt Black       135 1670 S       280,00 Euro

40                                                                                                                                                                                                                                                                         41